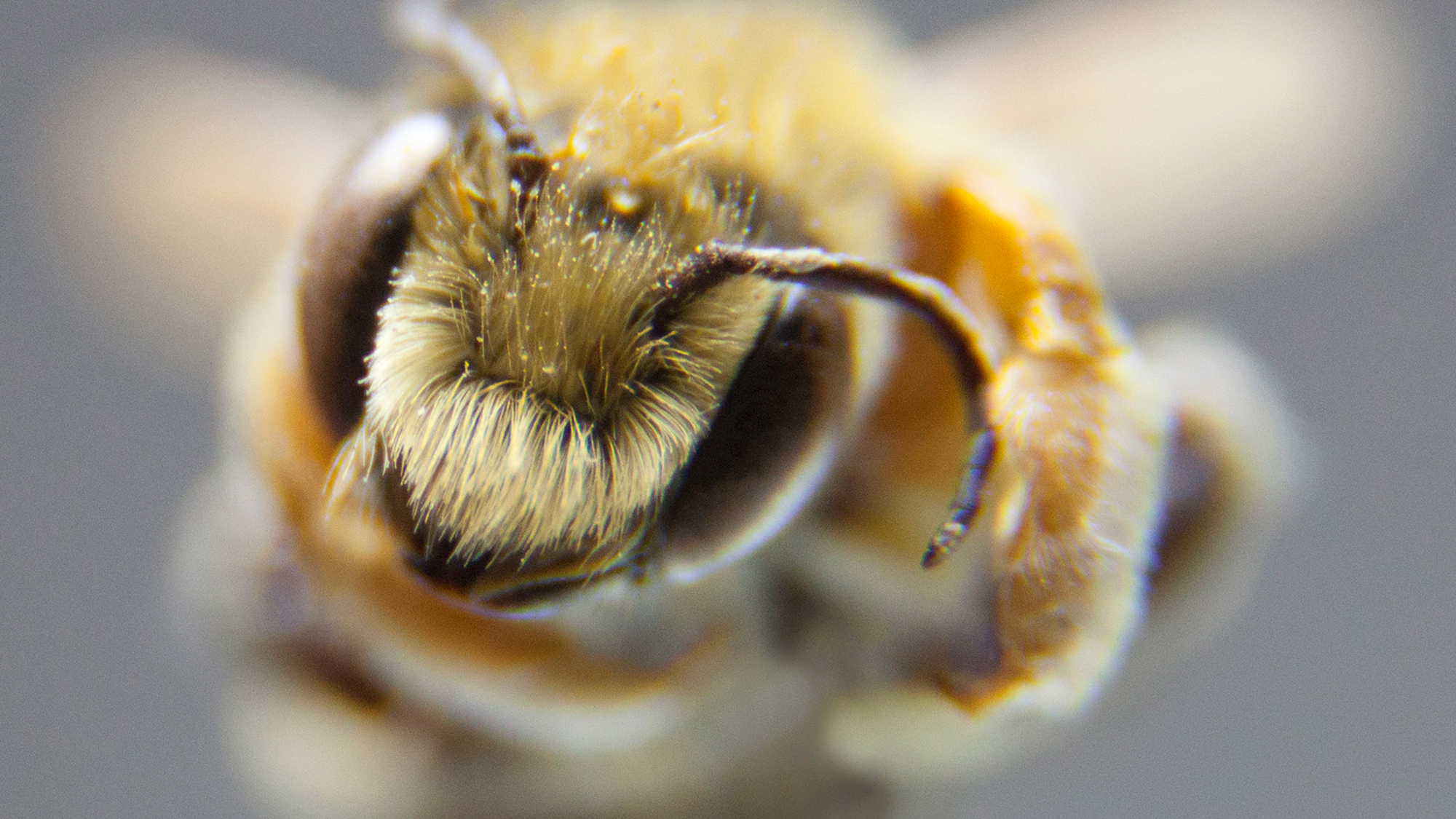 The declining population of insects – especially pollinators, such as honeybees and wasps – is a serious threat to ecosystems and agricultural production around the world, according to Scott McArt, assistant professor of entomology. Just how serious is this threat? McArt reframed the question in existential terms: "Do you eat?"
In the Mann Library exhibit PolliNation: Artists and Scientists Crossing Borders to Explore the Value of Pollinator Health, McArt and other Cornell entomologists collaborated with U.K.-based scientists and artists to bring the issue of insect decline to the university community. Wales Arts International helped fund the exhibit.
PolliNation conveys scientific facts while prompting questions and conversations through art. Statistics about the decline of pollinators – including the 28% to 46% average annual loss rate for honeybee hives in the U.S. – are displayed alongside artworks that highlight pollinators' delicate beauty. Works include the larger-than-life-sized bee and butterfly eggs made from wax and glass by Sarah Tombs, a sculptor and lecturer from Wales who gained insight and inspiration from Cornell's entomologists and insect collections.
"In 2017, I came to the McArt Lab and went with his team into the fields, watching them collecting insects and plant materials and going back to the lab to do complex data processing and modeling," Tombs said.
She described the exhibit's combination of art and science as a "cross-fertilization of different ways of communicating," which brings the issue of pollinator health to a bigger audience.
The library setting stimulates discovery and rewards repeated viewing, according to Catrin Webster, a painter and art professor also from Wales, who used iridescent paint for her abstract landscapes on exhibit. Webster explained that wandering through plants and flowers in fields was similar to wandering through display cases and book shelves in libraries.
"What's exciting about libraries is that they're places of return, where you have eddies of slow thinking, where you go to look at something, and then you go away and come back to look again and see something differently," she said.
McArt hopes visitors will gain a deeper appreciation for both the beauty and function of pollinators and be inspired to address the issues affecting their health, including pesticide toxins, habitat destruction and climate change. One's backyard or front lawn is a good place to start, he said, with less use of pesticides and less frequent mowing.
"Letting the clover grow just a little bit before you mow it down can be a really great resource for bees," he said.
The exhibit, which runs through Sept. 30, is an offshoot of an ongoing project called Cross-Pollination: Revaluing Pollinators through Arts and Science Collaboration .