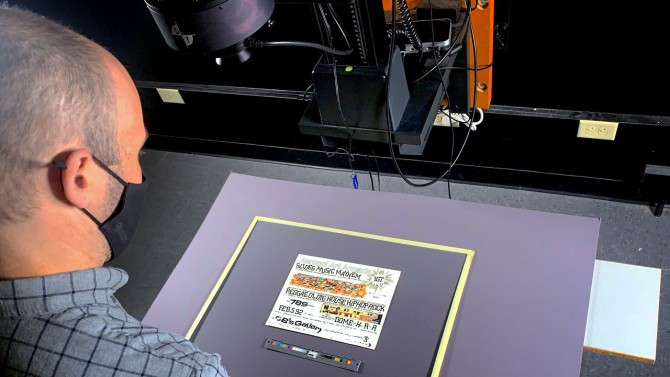 Cornell University Library's Grants Program for Digital Collections in Arts and Sciences is seeking applications to create online collections that will support teaching and scholarship at Cornell and beyond.
Visual resources collections coordinator Simon Ingall digitizes artifacts for a street art collection.
Materials to be digitized range from cassette recordings to 3D artworks, and can come from the applicant's personal collection or from an existing collection at Cornell or other institutions. Faculty members and doctoral candidates in the College of Arts and Sciences are eligible to apply; collaborative projects with colleagues from different Cornell colleges and schools are welcome.
"This program remains an important and inspiring opportunity for faculty and graduate students to help inform the library's digital resource priorities," said Tre Berney, chair of the advisory group and director of Digitization and Conservation Services at Cornell University Library. "These enduring resources reflect the unique fingerprint of the university's research and impact and also the library's rare and distinctive collections."
The deadline to express initial interest is March 1; final applications are due April 1. Details are available at the library's Digital Consulting and Preservation Services (DCAPS) website, and questions can be submitted via email.
Since the program was established in 2010, it has funded more than 50 projects to create a range of online collections vital to diverse fields of study at Cornell.
This story also appeared in the Cornell Chronicle.