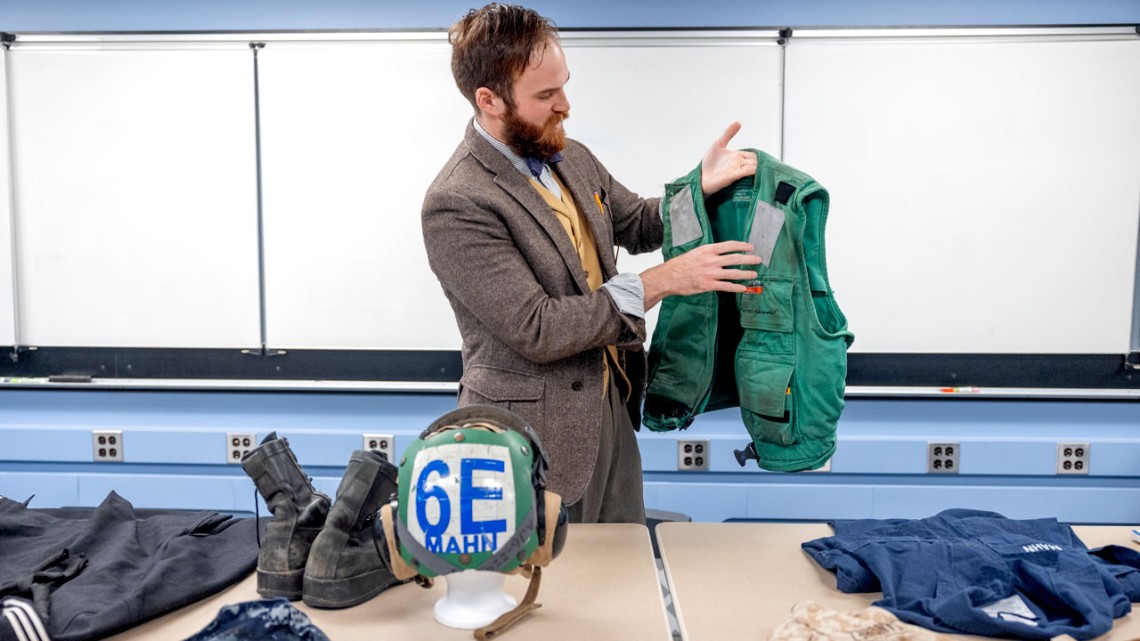 All of Cornell's military veterans have stories to tell, but no two are exactly alike.
Christopher Mahn '24, a Navy veteran, has been exploring those similarities and differences by collecting oral interviews and memorabilia from Cornellians who have spent time in service to their country.
Mahn, a biology and society major in the College of Agriculture and Life Sciences, has spent more than a year gathering the stories of Cornell students, alumni, staff and faculty members who are veterans as well as family members and advocates of veterans. Interviewees contributed photos, pins, medals, uniforms and other items from their service to the collection.
Those items, and more, will be on display at the Cornell Veterans and Military Exhibition, and recordings of the interviews will be played, Nov. 9 from 1-4 p.m. in the Computing and Communications Center, conference room 217. After the exhibition, the oral histories as well as photos and other ephemera will find a permanent home in the Cornell University Archives, kept in the Rare and Manuscript Collections of Cornell University Library. Mahn said he and the Undergraduate Student Veteran Program plans to exhibit the items again in the spring.
To date, the collection encompasses 75 years' worth of military experience. Stories include those of an alumnus who served during World War II, Vietnam War veterans, and recent servicemembers who are currently students or staff.
Mahn, a student veteran ambassador who helps staff recruit veterans to Cornell and helps fellow veterans succeed at the university as students, wanted the stories to be available to a wide audience to help dismantle the stereotypes often applied to veterans.
While the military branches are often viewed – and presented – as homogenous collectives, veterans' unique perspectives aren't being heard enough, Mahn said.
"There are so many different experiences of the military. And it's rare that you'll hear the same story twice, even though you may hear recurring themes," Mahn said.
Mahn spent four years as an airplane mechanic on aircraft carriers. "When I got out of the Navy, everybody acted like I was … swabbing decks in my whites and just having a grand old time, and or we're all just singing patriotic songs and fighting the good fight and all that. That's the myth. That's the fable."
He added, "War can be hell." But military service can also be a breeze, he said. "There are so many different experiences of the military."
It's not just combat veterans who have stories to tell, said Gus Kappler '61, M.D. '65, a trauma surgeon from 1970-1971 in the Vietnam War whose oral history is part of the collection. Previous to this project, Kappler gave his papers documenting his wartime experiences to the University Archives.
"The American public feel that the image of a veteran connotes being on a battlefield and shooting at the enemy, but that's essentially uncommon for a veteran. … They're clerk typists, they're nurses, they're cooks, they're mechanics, they're truck drivers, everything. Just go through the list of services that a community needs to survive; you need that on your base," Kappler said.
But just because a veteran didn't see active combat doesn't mean they aren't dealing with difficult emotions. Upon joining the military, Kappler said, "their identities are taken away, they're stripped down, and they're reformed as these fighting machines."
Kappler said it's as important to understand the impact of the military culture as it is to understand the horrors of war. A more complete understanding can make people better leaders, friends, veteran advocates and voters.
"It's extraordinary," Kappler said of Mahn's project. "History is so important to record. And that's what he's doing. And he's getting it from the horse's mouth, not from inferences and not from guesses."
Evan Earle '02, M.S. '14, Peter J. Thaler University Archivist, said the University Archives regularly relies on others to record various aspects of Cornell's history, and it often takes someone who is "on the inside" to record stories.
"When you can have an interviewer who has a connection to the interviewee – in this case, having the conversation between two veterans – it can help provide a pathway for history to be shared comfortably," he said. "And that's one of the reasons that I think this project is extra special. He's able to maybe draw out some things that people might not have thought they'd want to share otherwise."
In 2017, Provost Michael I. Kotlikoff committed to increasing undergraduate enrollment of veterans. Since then, the university has put in place a number of programs to help veterans succeed and find belonging at Cornell.
"Valuing the voices of veterans makes Cornell a more inclusive, diverse place," Kotlikoff said. "Our community benefits from their insights and perspectives."
Earlier this year the Military Order of the Purple Heart recognized Cornell as a Purple Heart University for its efforts to support veterans who have received a Purple Heart Medal resulting from combat injuries. Additionally, U.S. News & World Report ranked Cornell as a no. 1 college for veterans in 2024, tied with the University of Chicago.
Like students in college, servicemembers in the military are put together with people from all over the world and are exposed to new thoughts and new opinions. "The job, arguably, at colleges is to learn to grow," Mahn said. "And everybody grows in the military, whether they want to admit it or not."
Mahn hopes to continue growing the collection. To share a story, email cornellveteranscollection@gmail.com or send a message to the Cornell Vets and Military Facebook page.
The project receives funding from the National Veterans Leadership Foundation as part of the Military Community Advocate program.
This story also appeared in the Cornell Chronicle.