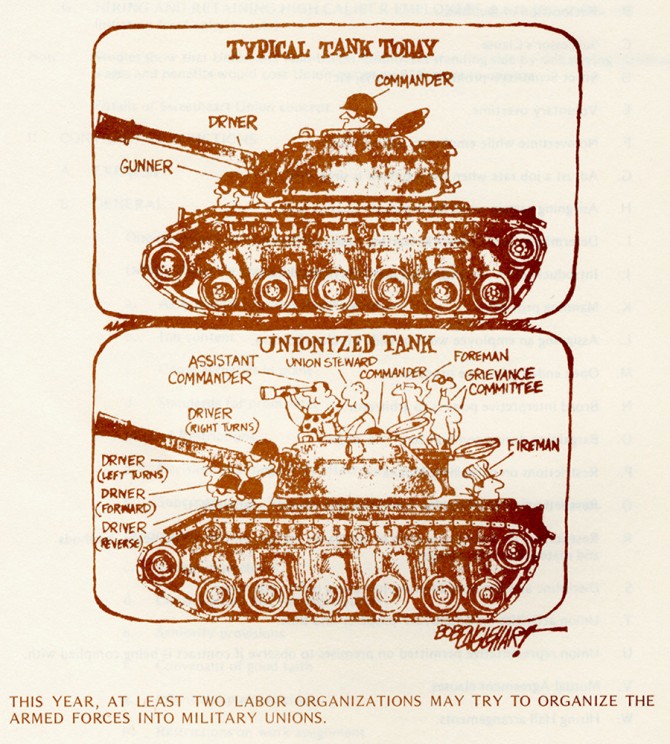 When companies go toe to toe with labor unions, they call people like Leonard C. Scott, a former human resource and labor relations executive who also served as a consultant specializing in fighting unions and preventing them from forming in the first place.
Cornell University Library's Kheel Center for Labor-Management Documentation and Archives in Catherwood Library, in the ILR School, recently digitized the anti-union files, dating from 1966 to 2013, that were donated by Scott in 2007. These files, which provide a rare insider's view of anti-union advocacy, are now fully accessible online.
Scott's papers run the gamut – from a one-page list of do's and don'ts for supervisors during a strike, to "ventilation" reports documenting grievances aired by employees, to memos detailing procedures for counter-union campaigns.
Lee Adler, an expert on education and collective bargaining at the ILR School, said that these kinds of documents show the different ways companies attempt to circumvent the National Labor Relations Act enacted in 1935, which protects the rights of workers to form unions and negotiate for better wages and working conditions.
Anti-union campaigns often target the morale and psyche of workers, Adler said.
"There are many strategies for spreading distrust, suspicion and doubt to essentially neutralize the power and effectiveness of unions and then create, again, the dominance of the management at the workplace," Adler said, adding that Scott's collection is valuable not only for labor historians and workplace scholars, but also for sociologists and political scientists studying the issue of disenfranchisement among workers and other groups.
Highlights of Scott's collection include documents related to organizations like the West Coast Industrial Relations Association – one of the largest anti-union groups in the U.S. during the 1970s and '80s – and documents about the strike against Union Carbide Corporation, which lasted from August 1966 to March 1967 and was coordinated by the Chemical Workers Union, the United Steel Workers Union, and the Oil, Chemical, and Atomic Workers Union.
"This strike was a standout event of this push by national unions to increase their bargaining power," said Eirva Diamessis, a library science master's student from Simmons University, who interned in the Kheel Center in 2019 and digitized and described the collection for a wide online audience.
"The important thing here is that there are documents that are related to events of union history, but from the perspective of the companies and the managers," she said.
These papers are often closely guarded and rarely leave company boardrooms, according to Barbara Morley, digital archivist at the Kheel Center.
"People who are working on union avoidance, or union busting, typically do not let their materials out," she said, "so it's very rare to find materials like these available."
Morley said that Scott – whose parents, ironically, were labor union members and leaders themselves – ultimately wanted to transform businesses into friendlier and more rewarding environments for workers, where unions wouldn't be needed.
These workspaces were part of the concept of inclusive capitalism that Scott described in his book, "Inclusive Capitalism: What It Looks Like in Practice" (also included in the online collection), as a business model defined by "by progressive policies and practices" such as living wages, profit-sharing and development programs that "enable employees to reach the highest level of their ability."
This story also appeared in the Cornell Chronicle.