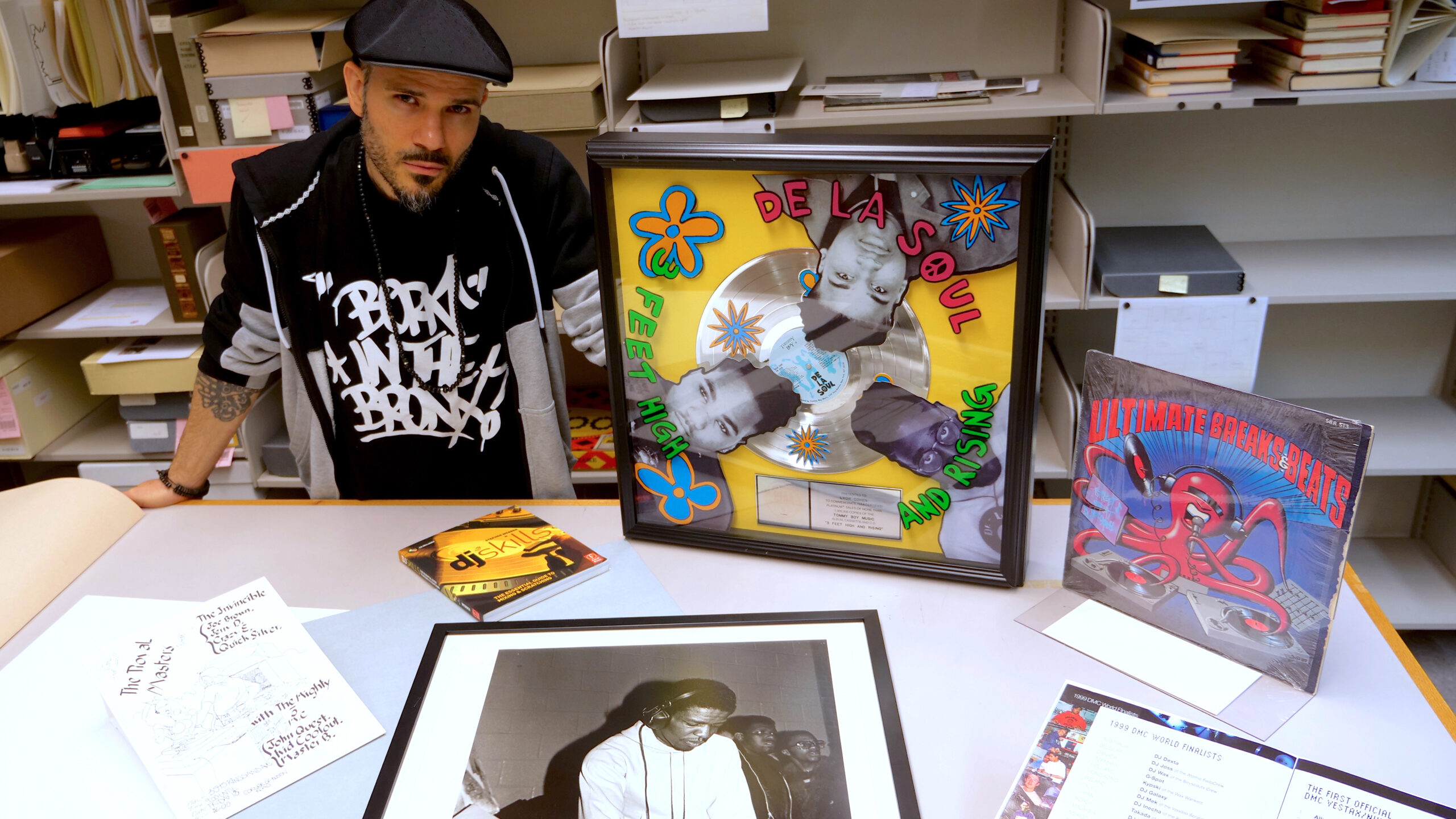 Spinning records in the early 1970s, Clive Campbell – popularly known as DJ Kool Herc – noticed a pattern: Dancers would always wait for the instrumental break of a song to bust out their best moves. What if he found a way to isolate those segments called "breakbeats" and keep the crowd moving?
On Aug. 11, 1973, at a dance party in the Bronx, he used a mixer and two turntables to overlap and seamlessly play breakbeat after breakbeat after breakbeat. The dancefloor went wild, and – historians of the genre say – hip-hop was born.
This Aug. 11, the 50th anniversary of that day in music history, the Cornell Hip Hop Collection opens a display titled It's Just Begun: Celebrating 50 Years of the Hip Hop DJ in the rotunda of Cornell University Library's Rare and Manuscript Collections, located in the lower level of Carl A. Kroch Library.
"DJs have been called the 'backbone' of hip-hop culture," said Ben Ortiz, collections specialist of the Cornell Hip Hop Collection, who is also a professional DJ. "Through these archival materials, the hip-hop community can celebrate and reflect on how far we've come, and the public can learn more about our art form and history." 
Highlights include several gold and platinum records from the archive of Bill Adler, former head of publicity for Def Jam Records, including albums by DJ Jazzy Jeff and the Fresh Prince, Eric B. and Rakim, and De La Soul. Other highlights include polaroid photographs from DJ Kool Herc's collection.
"Kool Herc's photographs offer a rare glimpse of hip-hop's grassroots generation, some taken before the first rap records were released by the recording industry," said Katherine Reagan, the Ernest L. Stern Curator of Rare Books and Manuscripts.
"Preserving materials of this era has been a goal of the Cornell Hip Hop Collection for the past 16 years," she said, "and this display helps shine the light on where hip-hop music, art and culture came from."
It's Just Begun runs through March 1, 2024. To continue its celebration of DJs, the Cornell Hip Hop Collection is also organizing events in November, with musical guests. Details are still being finalized.
This story also appeared in the Cornell Chronicle.