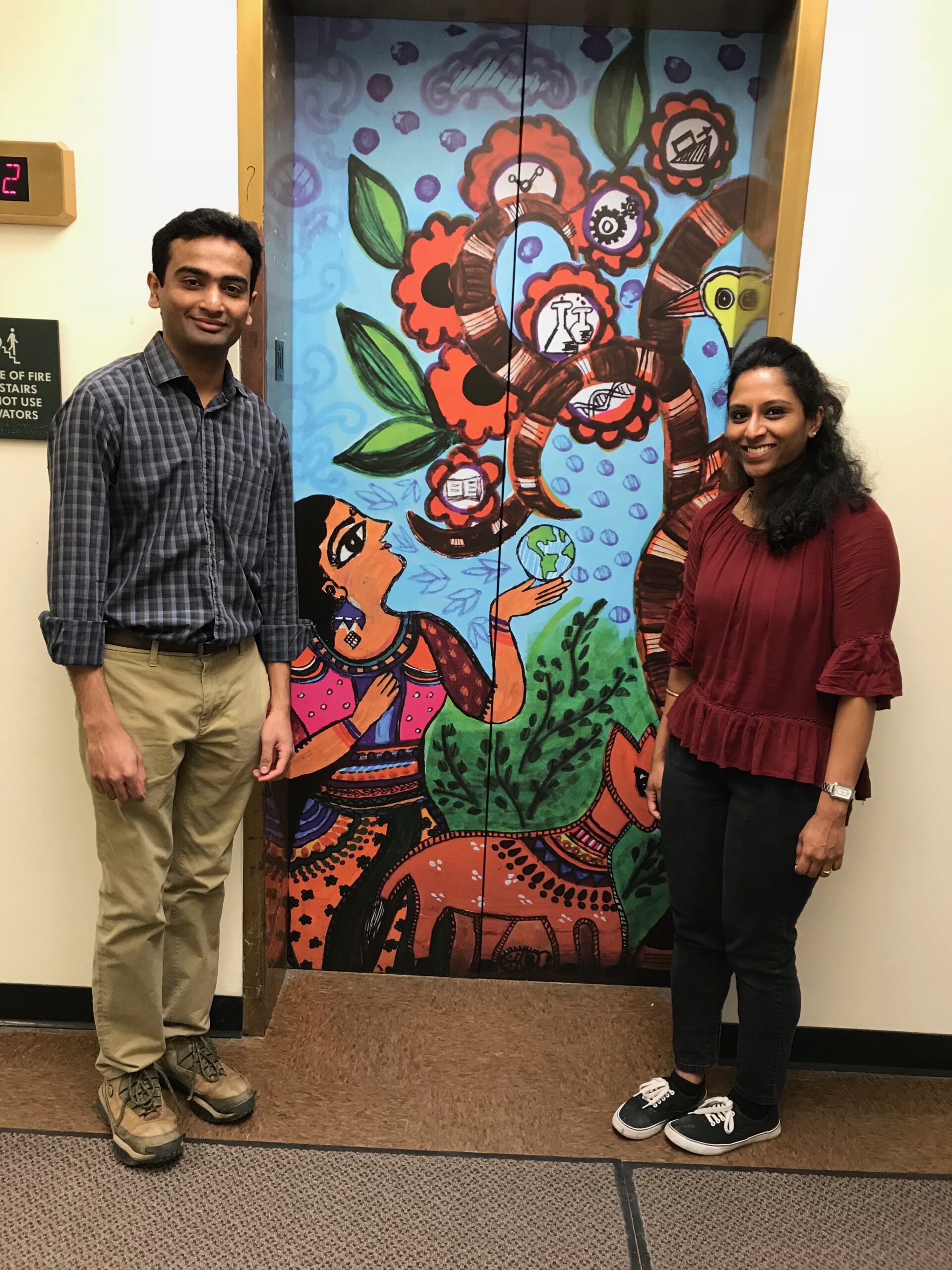 Shrinidhi Shrikant Pandurangi, a PhD candidate in Engineering, and Deepa Pandurangi, a husband-and-wife team, won first prize in the Library's contest to decorate the Olin Library first floor elevator doors with art around the theme of "The World at Cornell."
The Padurangis' art, in the style of an Indian Madhubani painting, depicts "how Cornell equips students with education in various fields of studies, and provides access to the latest technologies," according to their contest entry. The couple won two $100 gift cards.
Three additional students won $50 second-prize awards for their beautiful and thought-provoking images.
Jack Madden, a PhD candidate in Astronomy, wrote: "As part of the Carl Sagan Institute here at Cornell, I work on exploring the ways we could tell if there is life on other planets… But for now, these worlds at Cornell are just handfuls of data and an artist's conception."
Pavel Puzerey, a postdoctoral fellow in Neurobiology and Behavior, wrote: "This artwork was meant to both showcase and to pay tribute to the zebra finch, an Australian songbird, for the profound understanding it has engendered in neuroscientists about the neural basis of motor control and motor learning."
Ryan Patrick O'Briant '18 wrote: "While in Patagonia for the Global Vegetation Diversity course, we observed the effects of climate on vegetative adaptations. It really highlighted the delicate balance adaptations have to strike. This concept was made especially clear when we visited the Valdivian temperate rainforest and found this filmy fern. The trip enforced the importance of work across the globe in predicting outcomes of anthropogenic climate change."