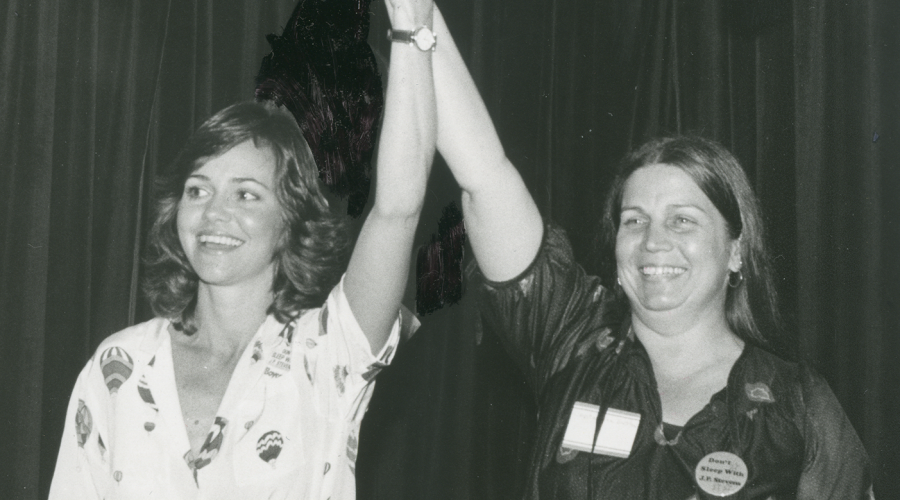 A new exhibit tells the story of a North Carolina cotton mill worker and her pivotal role in sparking a labor-management standoff that inspired a Hollywood film.
A More Perfect Union: Crystal Sutton and the J. P. Stevens Boycott offers a fresh perspective on the classic 1979 film "Norma Rae" and draws materials from the Kheel Center for Labor-Management Documentation and Archives. The center is located in Catherwood Library, which is located in the ILR School and part of Cornell University Library.
J. P. Stevens' records, along with other archival artifacts, photographs, documents and videos, were curated by Kheel Center staff, including Steven Calco, research archivist; Marcie Farwell, the Gordon and Marjorie Osborne Textile Industry Curator; Elizabeth Parker, technical services archivist; and Riley Eren Griffin, reference and reproductions assistant.
Crystal Sutton was a leader in the national boycott of J. P. Stevens' bedsheets, towels, and other products, which was organized by the Amalgamated Clothing and Textile Workers Union in the 1970s. Sutton had been working in a J. P. Stevens' textile mill in Roanoke Rapids, North Carolina, where workers faced rough working conditions and some suffered from brown lung disease, caused by the inhalation of cotton fibers. Sutton was fired for her efforts to unionize the Roanoke Rapids plant, and she went on a tour across the country with the Amalgamated Clothing and Textile Workers to promote the boycott. Its slogan was "Don't sleep with J.P. Stevens."
The exhibit includes photos of worker protests, pamphlets urging consumers to boycott, videos of workers describing working conditions, and press releases and advertisements created by J. P. Stevens in response to negative press.
Sutton and her fellow workers won a settlement with J. P. Stevens in 1980, but plant shutdowns, followed by the election of Ronald Reagan and national anti-union policies, trampled hopes of a more significant labor victory, according to the exhibit curators.
The curators also emphasized the crucial role that collective action has played over the years to change the garment and textile industry, including the pioneering attempt by African American cotton mill workers to rally for a union.
"It's not just one person, but it's collective actions that can cause true systemic change across an industry," Parker said.
A More Perfect Union runs through Dec. 23. It is part of a series of exhibits organized by Cornell University Library titled Threads of History.