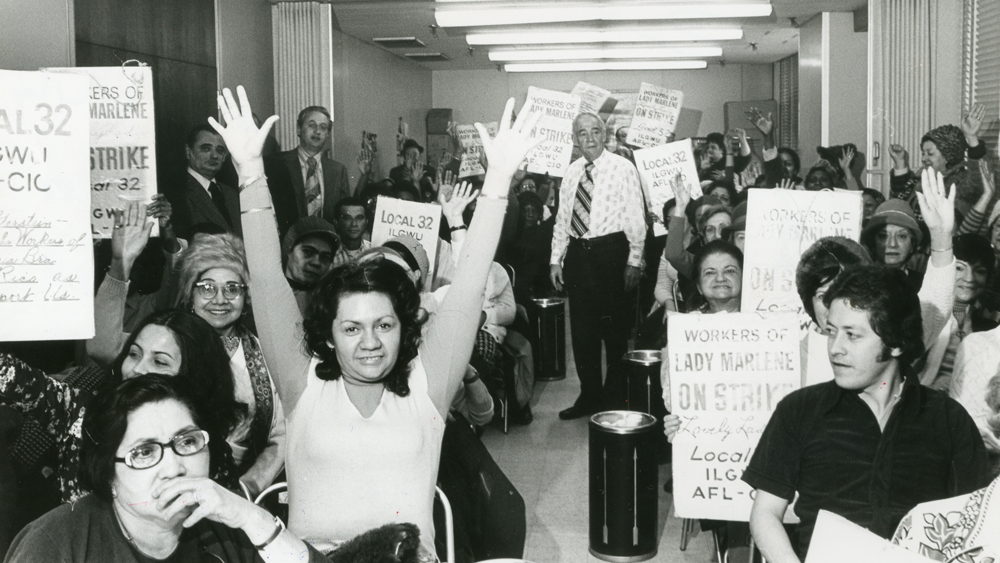 With historical materials from Cornell University Library's Kheel Center for Labor-Management and Archives, the Museum of the City of New York (MCNY) opens the exhibit City of Workers, City of Struggle: How Labor Movements Changed New York on May 1. The exhibit charts the struggles and hard-won victories of the urban working-class from the postwar era to the present.
"We couldn't have mounted this exhibit without the treasures that the Kheel Center has so generously agreed to loan and share with us," said Steven Jaffe, MCNY curator.
"Our visitors will have a truly unique opportunity to view great artifacts of New York City's labor history collected and preserved by the Kheel Center staff – from a century-old garment cutter's knife, to a beautiful banner carried by members of a garment workers' union local in parades, to hospital workers' organizing leaflets from the 1960s, rare film footage of strikes, and more."
Kheel Center archivist Steven Calco collaborated with Jaffe on selecting pieces that bring to light the plight of a diverse group of workers. In particular, garment industry laborers were well-represented in the exhibit, thanks to Kheel's holdings described by Calco as the "premier repository for garment union records in the country."
"Using our artifacts, the exhibit details early activism and events, including the Uprising of the 20,000, when Jewish and Italian shirtwaist makers went on strike against horrid working conditions in 1909; the tragic Triangle Shirtwaist Factory fire of 1911 that took the lives of 146 people in 18 minutes; and the organizing efforts of Chinese workers of Local 23-25 striking against sweatshop conditions in the 1980s," Calco said.
Calco added that the history of workers in New York City is often overlooked, and he emphasized the exhibit's timeliness: "The struggles facing workers today in the gig economy and the services industry reflect many of the workplace issues of workers a hundred years ago – exploitation, precarity, low pay, unsafe working conditions and few benefits.
"Although New York City remains one of the most unionized cities in the country, the exhibit can shed light into the ways workers organized in the past and use that as a framework for organizing workers today."
Open until January, City of Workers, City of Struggle: How Labor Movements Changed New York also includes artifacts from the Tamiment Library and Robert F. Wagner Labor Archives at New York University.