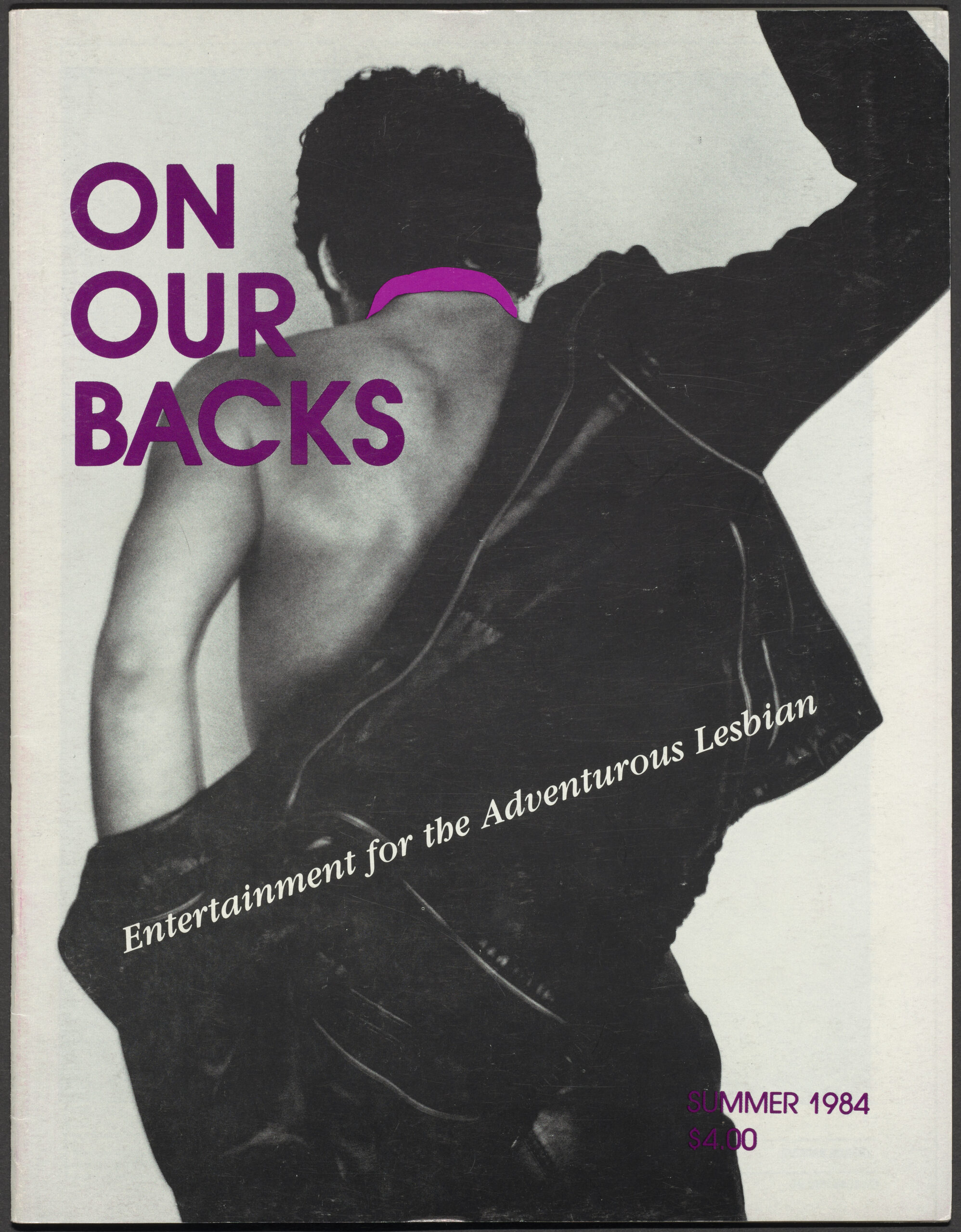 From its launch in 1984 to its last issue in 2006, the women-run erotic magazine On Our Backs made good on its tagline of delivering "entertainment for the adventurous lesbian," ultimately growing a strong international audience and shaping political discourse on sex and sexuality. Now, a library exhibition highlights the magazine's pivotal first decade and invites Cornell scholars and the general public to discover its trailblazing beginnings.
Running through Sept. 30 in the Hirshland Exhibition Gallery of Carl A. Kroch Library, Radical Desire: Making On Our Backs Magazine features photographs and other archival materials from the publication's founders and photographers, which are all part of the expansive Cornell Human Sexuality Collection.
Through vivid images, anecdotes, and contextual information, the exhibit traces On Our Backs' pioneering history as the first publication of its kind to be run by women and explores how the magazine was produced and received – from the challenges of finding advertisers and securing loans, to the joys of nurturing a close-knit community and building a loyal readership.
"On Our Backs was a whole new kind of feminist publication. Emerging at a time when men's exploitation of women in the sex industry was a focus of the feminist movement, these women decided to create their own non-exploitive sex industry," said Brenda Marston, curator of the Cornell Human Sexuality Collection, who organized the exhibition with Kate Addleman-Frankel, the Gary and Ellen Davis Curator of Photography at the Herbert F. Johnson Museum of Art.
"Their bold work to portray authentic lesbian sexuality showed what sex-positive feminism could look like," Marston added. "In an era when Senator Jesse Helms and President Reagan were blocking effective federal responses to the AIDS crisis and stigmatizing 'homosexuals,' On Our Backs meant the world to the queer community."
As a companion to Radical Desire, the exhibition Jessica Tanzer's San Francisco, 1987–1996 has opened at Kroch Library's Sillerman '68 Rotunda. Curated by Marston, this exhibition focuses on the works of one of the photographers for On Our Backs, who was active in the queer club scene and in activist groups Queer Nation, ACT UP (AIDS Coalition To Unleash Power), and the Bad Cop, No Donut movement that organized peaceful, direct-action protests against violence perpetrated on members of the LGBTQ community.
"Tanzer's archive and the archive of Honey Lee Cottrell, On Our Backs' first staff photographer, were what sparked the idea for this project two years ago," said Addleman-Frankel. "The further we went into these materials, the clearer it became that it was time for an exhibition that would bring the work of these photographers to the attention of the Cornell community and beyond."
"Few of the On Our Backs photographers ever gained acceptance by the mainstream art world, yet what they were doing was remarkable and urgent: creating images that they and their communities wanted and needed to see, that made queer identity and desire visible, at a time when visibility was central to the struggle for equal rights," she added. "They were deeply thoughtful about how photography in the hands of men had failed women in the past, and about how they might create a new, empowering photographic lexicon."
Addleman-Frankel also mentioned a related exhibit she curated at the Johnson Museum, Berenice Abbott: Portraits of Women, 1925–1930, running until July 31, which features a famed American photographer who influenced the photographers of On Our Backs.
In March, online versions of Radical Desire and Jessica Tanzer's San Francisco will be published on the library's exhibits page. Talks and other events are also scheduled for April, co-sponsored by Cornell's Feminist, Gender, and Sexuality Studies program (FGSS) and the Lesbian, Gay, Bisexual, and Transexual (LGBT) Studies program, which are celebrating their respective 50th and 30th anniversaries this year. More information will be available at the library's events webpage.
This story also appeared in the Cornell Chronicle.