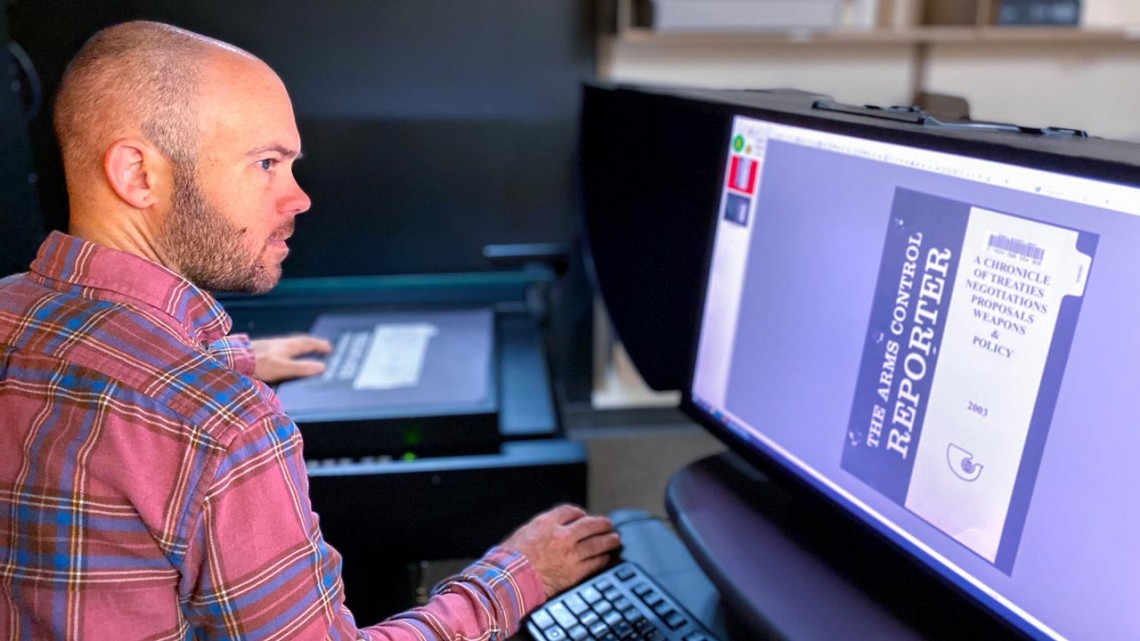 Cornell University Library's Grants Program for Digital Collections in Arts and Sciences transforms fragile artifacts into lasting online collections for teaching and research. This year, the program has awarded funding to five projects representing a range of study, from unearthing a vanished hamlet in Enfield Falls, New York, to examining modern art in Indonesia.
The Arts and Sciences Visual Resources Advisory Group chose the projects based on their scholarly impact.
"We always ask, 'What value will this have for teaching? What's the reach of this collection both at Cornell and beyond?'" said Tre Berney, chair of the advisory group and director of Digitization and Conservation Services at Cornell University Library.
Berney described the library's digital production experts as problem solvers who aim to "harvest, keep, preserve and disseminate knowledge," he said.
"The goal is to make these collections endure and to support the teaching mission of the College of Arts and Sciences," Berney added.
Chosen from a pool of 12 applications, this year's projects are:
Creating an online version of the 18th century "Lexicon Platonicum," written by German philosopher and philologist Friedrich Ast, so that the author's Latin translations and commentary on Plato can be corrected and augmented through links to modern texts and updated databases of ancient Greek. Led by Jeffrey Rusten, professor of classics.
Digitizing the works of two pioneering Indonesian artists who exemplify different approaches to modernity and Islam, to enhance existing Cornell collections on Indonesian modern art. Led by Anissa Rahadiningtyas, doctoral student in art history.
Creating a black sexualities collection from photographs, videos, brochures and other ephemera gathered from the Division of Rare and Manuscript Collections (RMC), which challenge dominant paradigms of race and sexuality. Led by Amaris Brown, doctoral student in Africana studies, with collaborators Cheryl Finley, professor of the history of art, and Brenda Marston, curator of the Human Sexuality Collection .
Digitizing artifacts and other ephemera related to the vanished Tompkins County hamlet of Enfield Falls to make these materials available for scholars studying tourism and the rural communities of the 19th century, and for local communities connecting with their history. Led by Sherene Baugher, professor of anthropology.
Creating a collection of archival materials from the defunct Institute for Defense and Disarmament Studies, founded and led by the late Randall Caroline Forsberg. This collection draws from a larger archive of related material in RMC and personal holdings of Forsberg's colleagues. Led by Matthew Evangelista, professor of government, with collaborators Agnieszka Nimark, a visiting scholar at the Judith Reppy Institute for Peace and Conflict Studies, and Judith Reppy, professor emerita of science and technology studies.
Dianne Dietrich, digital projects librarian and coordinator for Digital Consulting and Production Services, said the grants program is a close collaboration mustering the expertise of library staff – from imaging to intellectual property – and the insights of Cornell scholars.
"The researchers challenge the library to look outside of itself and be responsive to their needs, reflections and understanding of our collections," Dietrich said. "There are many ways people can see themselves in our collections, and the digitization grants program is a platform for them to say, 'These are the stories that need to be told from these collections.'"
Faculty and graduate students in the College of Arts and Sciences can apply for next year's grants by first sending an expression of interest by Feb. 15, 2020 to dcaps@cornell.edu. Full proposals are due March 15.
Read more about the 2019 projects .
This story also appeared in the Cornell Chronicle.