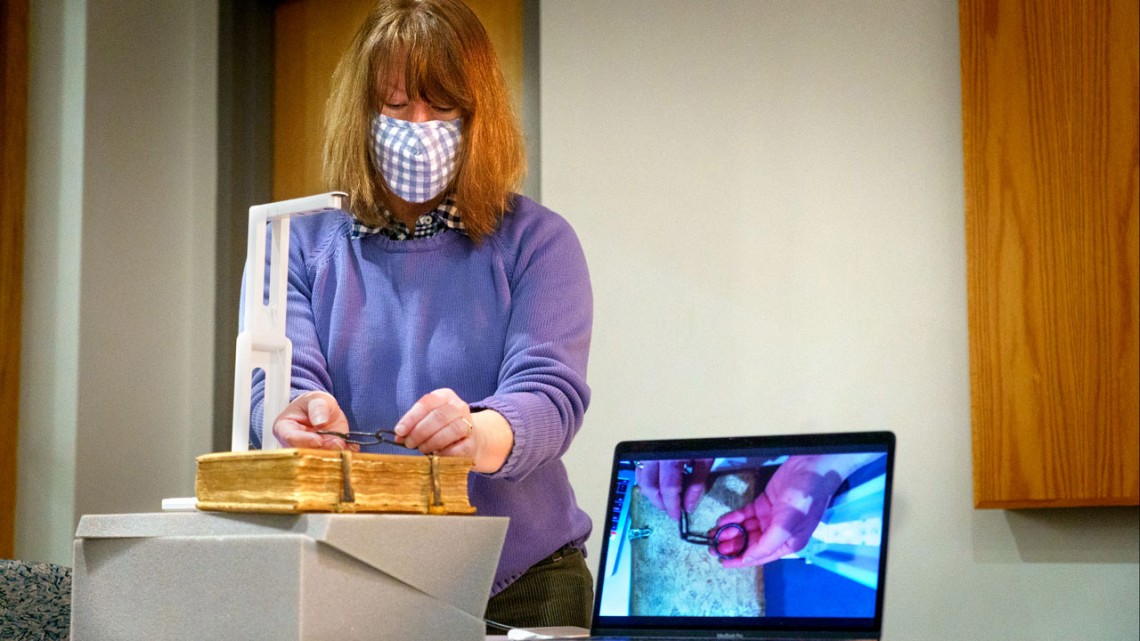 In the spring of 2020, Denise Green thought she had the fall 2020 semester all figured out.
An associate professor of fiber science and apparel design in the College of Human Ecology, Green had been awarded a Society for the Humanities fellowship to teach a class on curating fashion exhibitions. Her students would do hands-on research in the archival collections of Cornell University Library, the Herbert F. Johnson Museum of Art and the Cornell Fashion and Textile Collection, which she directs.
A grant from the Cornell Council for the Arts would fund an exhibition of the final class project, with "a big opening with hundreds of people gathered together," Green says.
"I had the plan. I had the syllabus. I had the money to support the curation and installation," she says. "And then everything changed."
As the COVID-19 pandemic forced Cornell to limit access to physical spaces, Green had to adapt her syllabus for the virtual classroom. But thanks to librarians and curators, her students were still able to access Cornell's library archives remotely and in person when the library's spaces reopened.
"I'm incredibly grateful to Cornell University Library for working with me to transform this course," Green says. "It was reformatted so that my class now has seven digital exhibitions, which launched on the Cornell University Library's platform."
This spring, as they did through the fall, archivists, curators and librarians are finding virtual ways to help instructors teach research, using gems from Cornell University Library's rare and distinctive (RAD) collections, from medieval texts on parchment to punk show flyers.
For Green's class, curators and archivists guest-lectured over Zoom, presenting an overview of fashion-related collections that include:
Brenda Marston, curator of the Cornell Human Sexuality Collection, in the Division of Rare and Manuscript Collections (RMC) in Carl A. Kroch Library, guest-lectured with labor archivist Steven Calco and Marcie Farwell, the Gordon and Marjorie Osborne Textile Industry Curator, both from the Kheel Center for Labor-Management Documentation and Archives at Catherwood Library.
"Afterward, we all three stayed for a long conversation with the students, where they got to ask us about the topics they were interested in," says Marston, who also created an online guide for RAD collections that are available digitally. The students then developed topics for their final projects, from examining the cultural and economic implications of women's bathing suits to rethinking the meaning of trash.
In mid-October, when RMC and the Kheel Center reopened by appointment, physical archival materials also became available for students.
Green's student Lynda Xepoleas, a Ph.D. candidate in the field of fiber science and apparel design, visited RMC to dig into the New York State College of Home Economics records, 1875-1979. She and her class project partner, anthropology Ph.D. student Emily Hayflick, researched the ethnological dress collections of Beulah Blackmore and Ruth Sharp, who donated costumes from all over the world to the Cornell Fashion and Textile Collection and the Department of Anthropology Collections in the early- to mid-1900s.
"Blackmore and Sharp's collecting practices disprove the assumption that university dress collections primarily consist of Euro-American fashion," Xepoleas and Hayflick note in their online exhibit. "Instead, both of these women were interested in diversifying Cornell's curriculum and provided students with primary materials for them to learn about the cultural practices of Indigenous communities and peoples."
Xepoleas and Hayflick also examined the complex issues involved in the act of acquiring artifacts from different cultures on distant shores.
"We were really interested in Blackmore and Sharp's collecting practices, as well as ways in which both of these women circulated their collections once they were on Cornell's campus," Xepoleas says.
Live from the archives
During fall 2020, a range of faculty members used archival collections for virtual instruction. For an art history course on women and U.S. politics, Professor of English Shirley Samuels in the College of Arts and Sciences (A&S) drew from visual and literary materials from the Johnson Museum and RMC, including a wealth of documents and artifacts related to the women's suffrage movement.
Elisabeth Meyer, associate professor of art in the College of Architecture, Art and Planning, used images from the PJ Mode Collection of Persuasive Cartography to discuss the art of political propaganda in her print-making class.
For a class on Jane Austen, senior lecturer David Faulkner (A&S) showed his students first editions of books such as "Sense and Sensibility" and "Mansfield Park" and abolitionist materials – including pamphlets from the Samuel J. May Anti-Slavery Collection – to give historical context to Austen's works.
The instructional librarians for these and other classes used different techniques to showcase archival collections for students.
"Working in partnership with faculty, curators devised creative ways to Zoom in during a class's meeting hour so students can see and interact with digital surrogates of Cornell University Library's rich collections of historical documents," says Katherine Reagan, the Ernest L. Stern Curator of Rare Books and Manuscripts.
For example, the library acquired an overhead document camera for use in live, show-and-tell sessions. "You can have one camera on the library instructor and the document camera above the books, and you can turn the pages and handle the artifact," says Laurent Ferri, curator of pre-1800 collections. "So it's much more similar to the work we used to do in person."
Ferri conducted several online sessions for Senior Lecturer Brent McBride's class, Print Matters: German Print Culture from the Medieval to the Modern (A&S). He presented rare books and manuscripts such as a collection of sermons from the 15th century, bound in pig skin and originally attached to a lectern by a chain. A.D. White obtained the book in 1891.
It was essential for students to get a good sense of the physicality of these old books for them to appreciate how the technologies of reading evolved over time, McBride says.
"Before there were universities in Europe, there were only monasteries, where all the books and libraries were. Medieval books were heavy and huge, and they were chained down," McBride says. "What we call 'reading' today is different from how people read 500 or 1,000 years ago."
Collaborations for the future
The instructional partnerships of the fall semester are paving the way for similar sessions in the spring semester and beyond.
Marston is working with Durba Ghosh, professor of history (A&S), in presenting archival materials for a course called The Global History of Love, which Ghosh is teaching online for the first time in the spring.
"I'm making a video introducing the Cornell Human Sexuality Collection so all the students will be able to watch it as homework," Marston says. "And then, I'll have Zoom meetings with them, where I'll be in RMC. I'll have the document camera, and I'll show some specific items that they'll be doing assignments on."
Those items include various ephemera, such as protest flyers posted by the NYC League for Sexual Freedom; memorabilia from marches commemorating the Stonewall riots; and family planning publications by different secular and religious groups.
Marston will also be introducing students to the library's digitized materials, including a postcard collection of cross-dressers in Europe and the U.S. from the early 20th century, which Ghosh and Marston had used in a previous semester to illustrate the performative aspects of gender. The postcards proved popular with students, so Ghosh and Marston applied for a grant to digitize them.
Ghosh says access to physical archival collections goes hand in hand with building online collections for research and teaching.
"I think we're tremendously fortunate for the resources we have in the library," she says. "I like that trajectory of using them in a previous class and then digitizing them to make them available for everybody."
This story also appeared in the Cornell Chronicle.