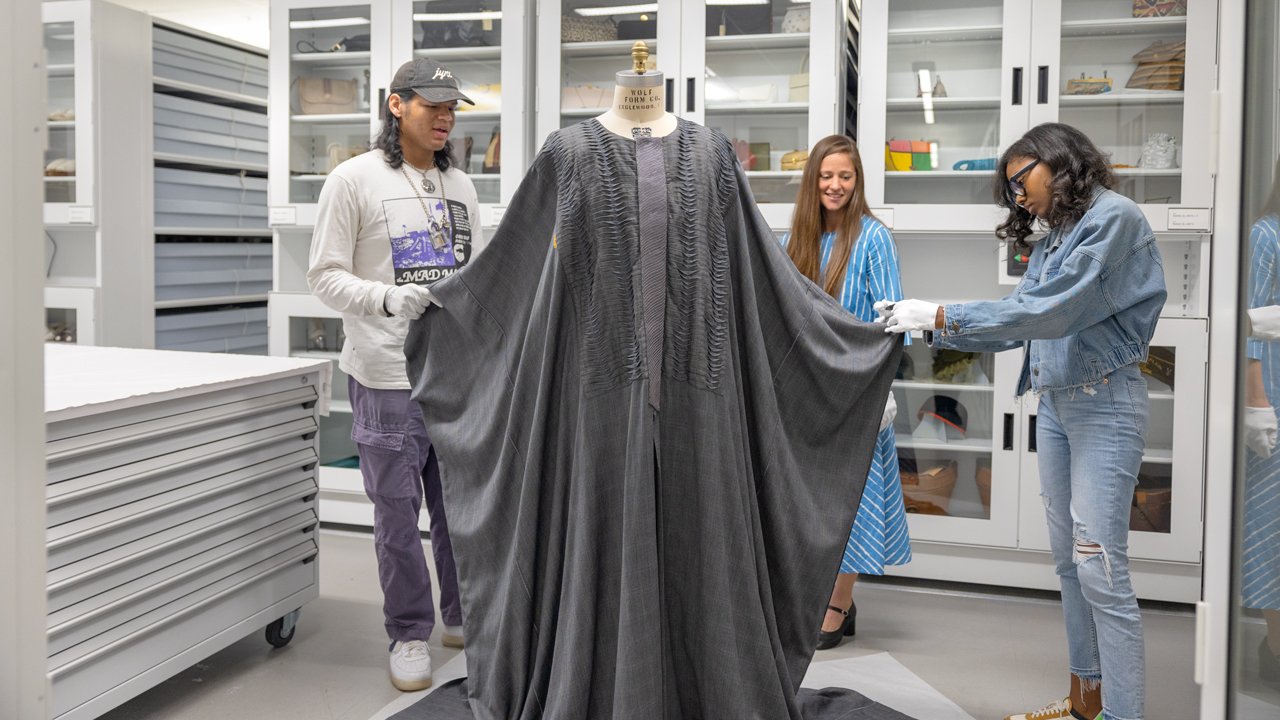 In late January, Professor Denise Green and her colleague Catherine Blumenkamp received an email with remarkable news. The auction house Christie's would be selling off the wardrobe of the famed fashion figure André Leon Talley, an influential Black editor at the top of a notoriously white field. Talley had died a year earlier, in January 2022.
"What raced through my mind was, 'We need to preserve this important history,'" says Green, associate professor of human centered design in the College of Human Ecology (CHE).
A few weeks later, she successfully bid on a voluminous robe made of grey wool herringbone twill with intricate detailing on the chest. The caftan is the latest of several recent additions to Cornell Fashion + Textile Collection that represent a diversity of cultures – a goal of the collection since its founding in 1915. The piece is jointly owned by CHE and Cornell University Library and is housed in the fashion collection.
"It's a continuation of our efforts to diversify the collection and decenter the Eurocentric narrative that has come to define 'fashion history,'" says Green, who directs the fashion collection. "We're expanding and redefining that narrative to become one that's inclusive of the immense range of fashions worn and made by peoples from across the globe."
Known for his encyclopedic knowledge of fashion history and dramatic personal style, Talley devoured the pages of Vogue as a youngster in segregated Durham, North Carolina. He earned a master's degree in French literature at Brown University and began his career in fashion by interning for editor-turned-curator Diana Vreeland, a special consultant to the Costume Institute at the Metropolitan Museum of Art. He went on to work as a fashion journalist for Women's Wear Daily, the New York Times and Ebony and was creative director and editor-at-large at Vogue. A style icon, he became known for advocating for more diversity in the industry, such as more Black models on runways and supporting new and non-Western designers.
"He took exception to the exclusionary nature of the fashion industry and expanded definitions of style and beauty. This is someone who was shaping the way we think about fashion and the body, and he really challenged the white, cisgender, young, thin-centric narrative," Green says. "He did that through journalism as well as his own fashion and style, and actively supported designers who came from historically marginalized communities."
Green and Blumenkamp, the collection's associate director, knew they wanted to bid on one of Talley's caftans, a majestic robe that had become Talley's signature look in his later years. "A caftan is a long and wide tunic, and does not typically include pants," Green says. "Not only was Talley confronting prejudices around body size in wearing such a voluminous garment, but he was also defying restrictive sartorial codes for men in the United States. This piece tells all of that story."
And they wanted a garment that demonstrated Talley's support of non-Western designers. Poring through the catalogue, they narrowed their target down to caftans custom-made for Talley by Patience Torlowei, a Nigerian designer and friend of Talley. Torlowei designs women's wear and intimate apparel and is known for her commitment to sustainability, ethical production and west African aesthetics. One of her pieces, the "Esther Dress," was the first couture garment to be acquired by the Smithsonian's National Museum of African Art.
But Green and Blumenkamp faced an obstacle: a lack of funds.
The chair of the Department of Human Centered Design, Yasser Gowayed, offered partial funding if the acquisition could be a collaborative, joint effort with other partners across campus.
Kofi Acree, director of the John Henrick Clarke Africana Library, put up half the funding in his role as curator of Africana collections for Cornell University Library's Rare and Manuscript Collections.
"I really wanted to support Denise's initiative, because I thought she was right. The purchase speaks to the whole issue about diversity," says Acree. "It adds to the diversficiation in terms of designers and adds to the conversation about what these folks do.
"The key thing about it is, she will be using this as an instrument to teach, and to educate students about this person, but also the diversity of the collection."
Read the full story in the Cornell Chronicle.