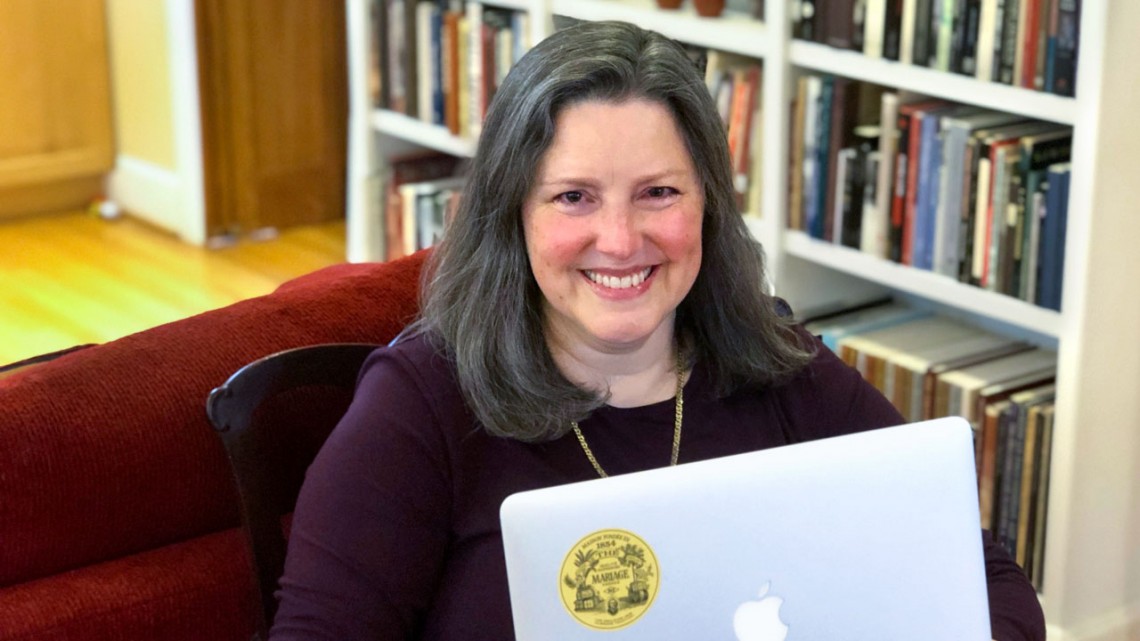 As Cornell University Library's physical spaces remain temporarily closed to mitigate the spread of COVID-19, librarians are opening digital doors for Cornell's community of scholars.
The library is now giving faculty, students and staff emergency online access to major portions of its print collection. The access comes through a new service available via the library's membership in HathiTrust – a nonprofit partnership of academic and research institutions which preserves digitized books, journals and other print materials, and makes them as accessible as possible under copyright law.
For as long as campus facilities remain closed , Cornellians can access digitized versions of the library's print titles that have been deposited to HathiTrust by Cornell and partner libraries over the years. Users can access these holdings via the library's online catalog and through a dedicated link on HathiTrust Digital Library . Cornell users will be prompted to log in with their NetIDs and passwords.
Any user can also freely explore an additional 6.7 million out-of-copyright, full-text titles on HathiTrust.
"We entrust our digital books to HathiTrust for times exactly like these, when we need to call upon preservation to provide enduring access," said Michelle Paolillo, digital lifecycle services manager and HathiTrust coordinator at Cornell University Library. Cornell University Library joined HathiTrust in 2010.
"Our colleagues in HathiTrust dropped everything to provide emergency access within the span of 2 ½ weeks," Paolillo said. "The speed with which this new service was developed was phenomenal."
In addition, content vendors including ProQuest, JSTOR and Bloomberg are providing the library with free or greatly discounted licenses to their databases. Librarians have compiled links to these free electronic materials .
"It's been incredibly heartwarming to see so many publishers who depend on income from access to electronic materials saying, 'For this time period, we're going to let people in free of charge,'" said Susette Newberry, art librarian and head of research and learning services for Olin and Uris libraries. "There's been enormous generosity and an incredible spirit of openness by the scholarly community."
To help faculty manage a higher-than-usual amount of scanned and digitized copyrighted material for online classes, the library's Copyright Information Center has published guidelines on fair-use practices . The guidelines are part of a broad coordinated response to the physical closures of libraries around the nation, according to Amy Dygert, director of copyright services at Cornell University Library.
"Together with copyright attorneys and advisors across the country, we mobilized immediately and started working together on releasing a fair-use public statement ," Dygert said.
She added that the Copyright Information Center is offering virtual office hours, online presentations for classes and remote consultations with faculty and students by appointment.
Librarians have also ramped up the Ask a Librarian service, which includes a 24/7 live chat to accommodate users in different time zones. This chat service logged 354 chat sessions between March 16 and 31 alone, compared to 145 sessions during that same period last year.
More LibGuides – subject-specific online guides to library resources – are also being created, including a new guide to online support for students – which instructors can easily integrate in their Canvas course pages – and a "Library Support for Remote Teaching" guide , developed in collaboration with the Center for Teaching Innovation (CTI).
Additionally, librarians are joining CTI colleagues for online drop-in consultation sessions for faculty . "We're getting a really good understanding of faculty needs, problem areas and pain points in the change to virtual instruction, allowing us to then think about what sorts of additional resources and support we might be able to create," said Christina Sheley, director of business, engineering and entrepreneurship at the library, who led a response team focused on supporting online teaching.
Ashley Shea, a member of that response team and the head of instruction initiatives for Mann Library, said library liaisons and instruction coordinators are hard at work adapting a range of class workshops and course instruction modules to fit the virtual environment.
"We're working with instructors to figure out how best to support their courses," Shea said. "It's been a combination of additional LibGuides, doing Zoom lectures – asynchronous and synchronous – and creating online learning modules as well."
Librarians are also teaching. When virtual classes begin April 6, Shea is giving a guest lecture on an urgent topic, "Understanding Science Information Amidst an Epidemic."
This story also appeared in the Cornell Chronicle.