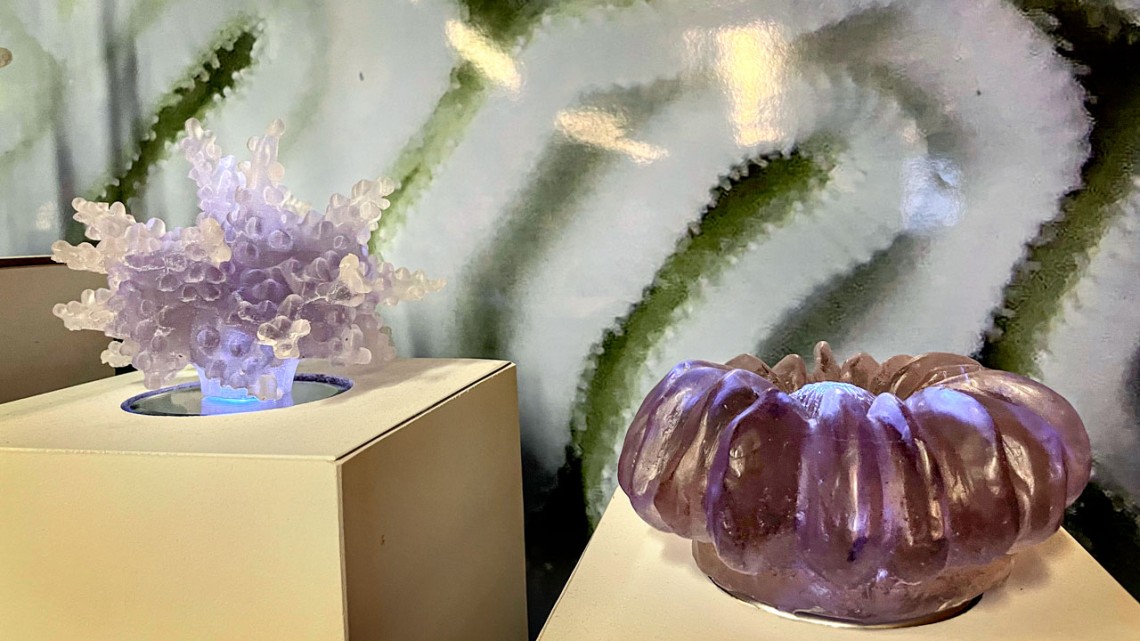 A new exhibit in the Mann Library lobby will examine the forms and nature of marine invertebrates, reimagined in postmodern materials such as silicone, resin and PVC.
Created by David Nasca, a master of fine arts student, the installation, titled "Model Organisms," drew inspiration from the sea life sculptures of 19th-century glass artists Leopold and Rudolf Blaschka to create metaphors relating to humanity's present and its imagined futures.
Cornell is one of few academic institutions in the U.S. with a collection of glass invertebrates created by the Blaschkas.
"One of the most surprising things I learned about the Blaschkas was what incredible material experimenters they were," Nasca said. "Many of their models were glued together rather than hot-worked and they used everything from cardboard inserts to wax and pigments to give their models the layered and fleshy translucence of marine invertebrates."
Although skilled in glass himself – he recently completed a David Whitehouse Research Residency at the Corning Museum of Glass – Nasca has used the glass Blaschka animals as a starting point.
"I was thinking about what the Blaschkas might have done if they were working in the 21st century with access to modern materials and technology," he said.
In the exhibit, Nasca uses a variety of techniques the Blaschkas would have found fantastical: digital sculpting: 3D printing and resin casting, in addition to traditional sculpting.
While the Blaschkas made models for scientific education, Nasca uses his sculptures to look at the human condition in relation to its environment, especially among queer, immigrant and other marginalized communities.
"Marine invertebrates for me are deeply queer," he said. "Queer in the sense that their strategies of survival, methods of reproduction and physical appearance are so incredibly foreign from a human-centric point of view. These animals are so perfectly adapted to thrive in a world that is hostile, and this to me makes these animals potent queer metaphors."
The parallels extend to coral bleaching, the phenomenon largely caused by climate change in which sea corals expel their symbiotic algae, losing their color and a major source of their food.
"Communities of otherness tend to form 'reefs' of a sort where difference is supported, celebrated, and vibrant," he said. "But, when individuals are taken out of community or forces such as gentrification impact neighborhoods, so much of that vibrancy is lost."
Born in Buffalo, Nasca holds a B.A. from the University of Chicago and has exhibited both in the U.S. (the International Museum of Surgical Science and Glass Curtain Gallery at Columbia College Chicago, among others) and abroad (Centro Cultural del México Contemporáneo in Mexico City). He has taught sculpture at the Chicago High School for the Arts, co-run DIY performance art spaces, and started a program to bring art into the underused Ithaca mall.
"Model Organisms" runs through April 15 in the Mann Library lobby. A public reception with the artist will be held in the lobby on Thursday, March 24, 4:30-6:30 p.m. A number of Leopold and Rudolph Blaschka's sea life models can be viewed on the second floor of Mann Library and the atrium in Corson-Mudd Hall.
This story originally appeared in the Cornell Chronicle.