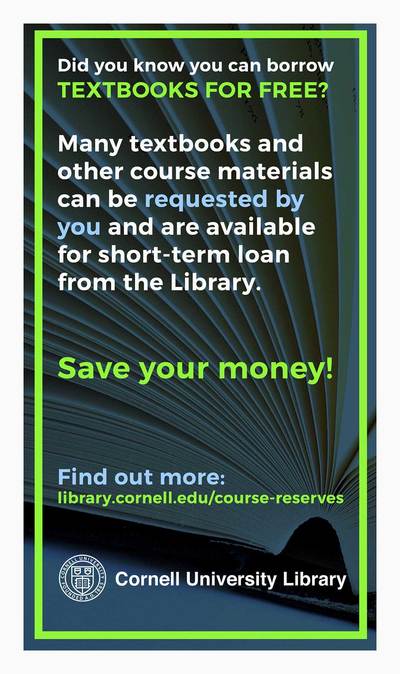 Textbooks can be heavy in the backpack, but even heavier on the budget. Through a pilot program this semester, Cornell University Library is lightening the load for students.
Students can now request for the Library to buy textbooks and make them available for short-term borrowing (typically two hours) if the textbooks are not already available on course reserves (search here!).
"We know that the high cost of textbooks is a major financial obstacle for students. This pilot lets students tell us what materials they need for their courses," said librarians Wendy Wilcox and Tobi Hines, in a joint statement.
They added:
"With any other textbook-reserve model (i.e., purchasing course materials for classes with the highest enrollment, or purchasing high-cost textbooks only), there is still an element of guess-work involved on our part. But with this approach, we are flipping the model so we can better support students who need to utilize library resources for their courses. If students are motivated to fill out the request form, they are indicating to us that these are items they need and will use."
Students can request textbooks in print or in the form of ebooks, for all kinds of courses, just by filling out the request form.
For any questions, please reach out to Wendy Wilcox (ww83) or Tobi Hines (eeh53). Read more about the pilot program.