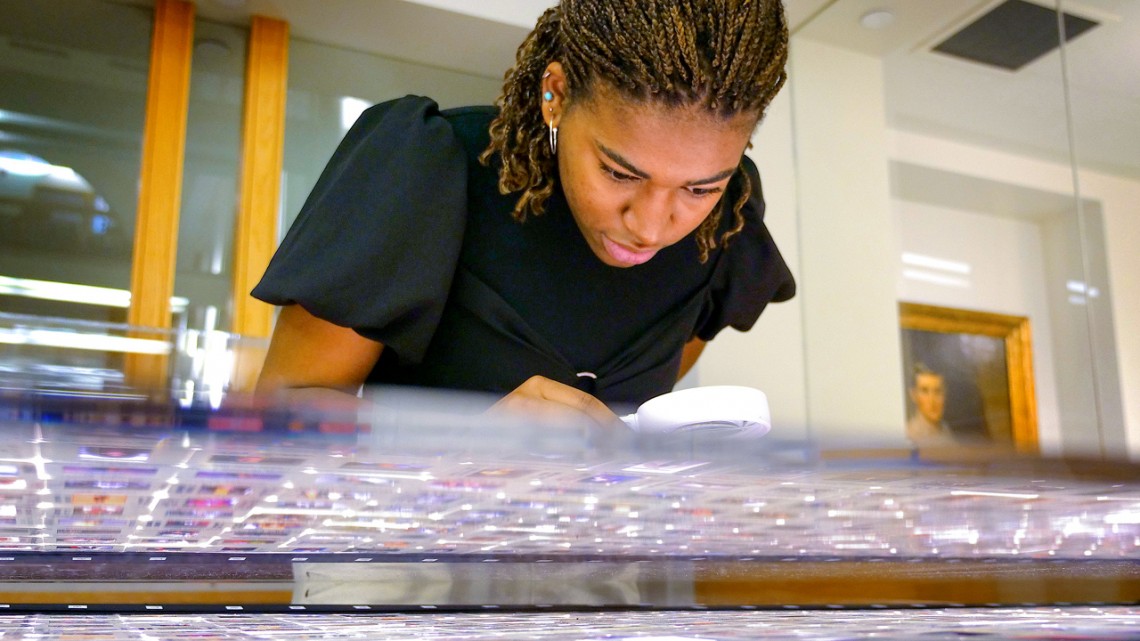 Curator Ben Ortiz dug deep into the Cornell Hip Hop Collection and culled more than 400 vibrant images to honor black women in media with an exhibit at Cornell University Library's Division of Rare and Manuscript Collections (RMC).
"I'm really excited for everybody to come view this exhibition," he said about "More than Reported: Images of Black Women from the Cornell Hip Hop Archives," running through early June. "But I'm most excited for black women and black girls to see themselves represented and celebrated in this way."
More than Reported includes icons from the 1970s through the early 2000s. There's Grace Jones on the cover of her album "Sorry/That's the Trouble" (1976); Lauryn Hill on the cover of Time magazine (1999); and Erykah Badu in the Village Voice (1997). In addition, nearly 400 photographic slides depict rappers, singers, actresses, businesswomen and other influential figures – from Missy Elliott to Miss Jones and from Janet Jackson to Millie Jackson – mostly taken by legendary photographer Ernie Paniccioli.
Ortiz arranged the slides on a glass case he designed for the exhibition.
"You can walk right up to this light table, turn it on, pick up a magnifying glass and look at every detail in the photos," he said. "And in many cases, you can see the photographer's handwritten notes."
A towering image of Queen Latifah functions as the banner for the exhibition. Enlarged from one of Paniccioli's slides, it shows Queen Latifah on an elevated platform, decked out regally in silk and gold, looking down directly at the camera with an expression of both pride and defiance.
"She's one of the most iconic black women in media, one of the most iconic black women in hip-hop history and, arguably, in all of music history," Ortiz said.
The exhibit is already resonating with young students like Nwakoso Edozien, BArch '20.
"Black representation is so important to have, especially in academic environments where people learn about the world, society and themselves," Edozien said. "It was great to see the many black female artists and I hope such exhibitions as this can be extended to the rest of Cornell campus."
Rising music star Enongo Lumumba-Kasongo '08, MA '15, PhD '19 – also known as rapper/producer Sammus – provided the foreword to the exhibition. She addressed viewers as "sisters" and described the exhibition as "a mirror reflecting the experiences of women who look and live like us."
"As you take in our beauty, elegance, joy and brilliance," she wrote, "please also take a moment to think about those of us whose stories have not made it to the archive."
The exhibit will be shown in the RMC reference room in the Carl A. Kroch Library, which is open weekdays from 10 a.m. until 4 p.m. The exhibit is also open for special Saturday viewing for the spring semester, from 1-5 p.m.: March 16 and 23; April 13, 20, and 27; and May 4.
This story also appeared in the Cornell Chronicle.