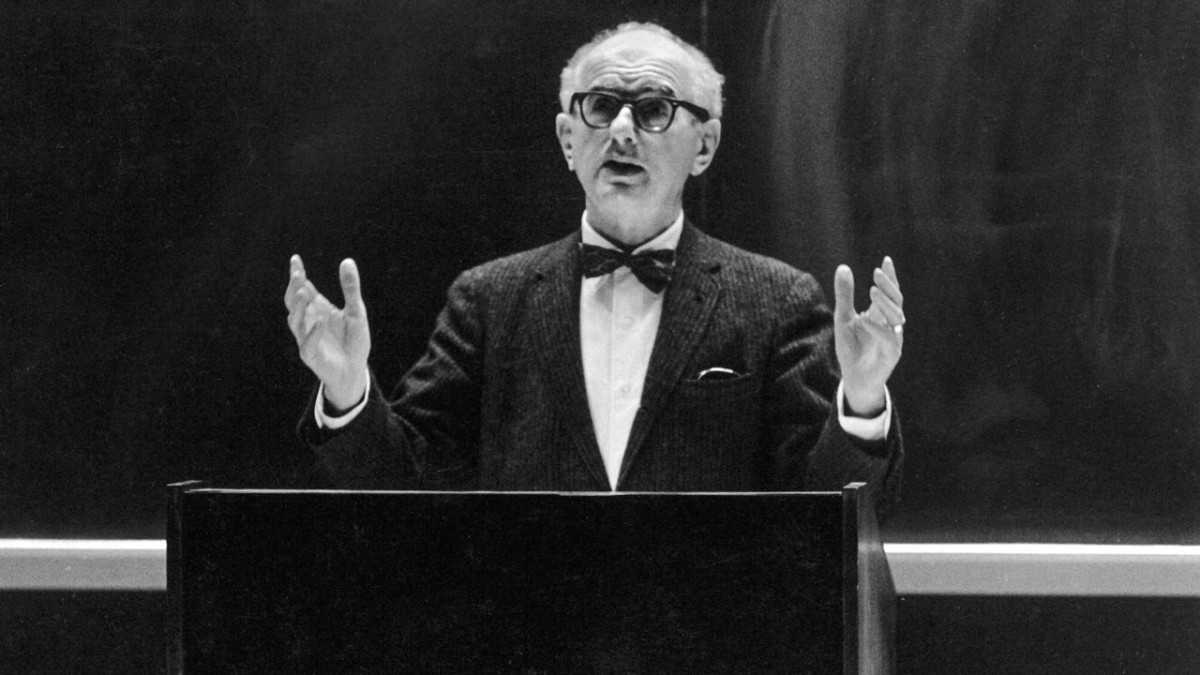 As a Cornell undergraduate, Joan Ruth Bader '54 was inspired by professor Milton Konvitz PhD '33. He was a "marvelous teacher," she said, who introduced Bader to the scope of human rights as part of the American Ideals course for which he is legendary.
Of course, Bader would rise to legendary status herself.
"You opened my mind to the possibility of realizing human rights at a time that was not the best for our Nation and World," U.S. Supreme Court Justice Ruth Bader Ginsburg wrote from her chambers in 2001.
Archivist Steven Calco and Brandon Hoak '21 this week found that typewritten note, as well as a handwritten note, from Ginsburg, who died Sept. 18 at age 87, thanking Konvitz, a founding faculty member at the School of Industrial and Labor Relations who also served on the Cornell Law School faculty.
Calco is the research archivist of the Kheel Center for Labor-Management Documentation & Archives, the unit of Catherwood Library, part of Cornell University Library, that collects, preserves and makes accessible collections pertaining to the history of the workplace and labor relations.
Another note, written by Ginsburg three days before her Supreme Court nomination by President Clinton, is part of the Kheel's collection. It reads, "Dear Milton, A Cornellian who attended a lecture I gave this spring said: 'She reminds me of Professor Konvitz.' Can't imagine a compliment higher than that. With appreciation for you, good wishes, Ruth."
"There is something so heartfelt in seeing the great Ruth Bader Ginsburg hold her own teachers in the highest regard," Calco said. "And, generally, there is nothing more exciting for an archivist to discover letters from prominent figures in American history who fought for justice and against discrimination."
When Konvitz died in 2003, Ginsburg told The New York Times that she was too shy to approach him when he was her teacher. But they later corresponded, covering subjects from the right to privacy to anti-Semitism.
The Kheel Center also holds an oral history of Ginsburg – including an interview of Ginsburg by William Kilberg '66 – that is part of its College of Labor Employment Lawyers collection.
Ginsburg, who cited ILR Dean Alex Colvin's mandatory arbitration research twice in the past three years, will lie in state at the Capitol on Sept. 25.
This story was written by Mary Catt, and it also appeared in the Cornell Chronicle.