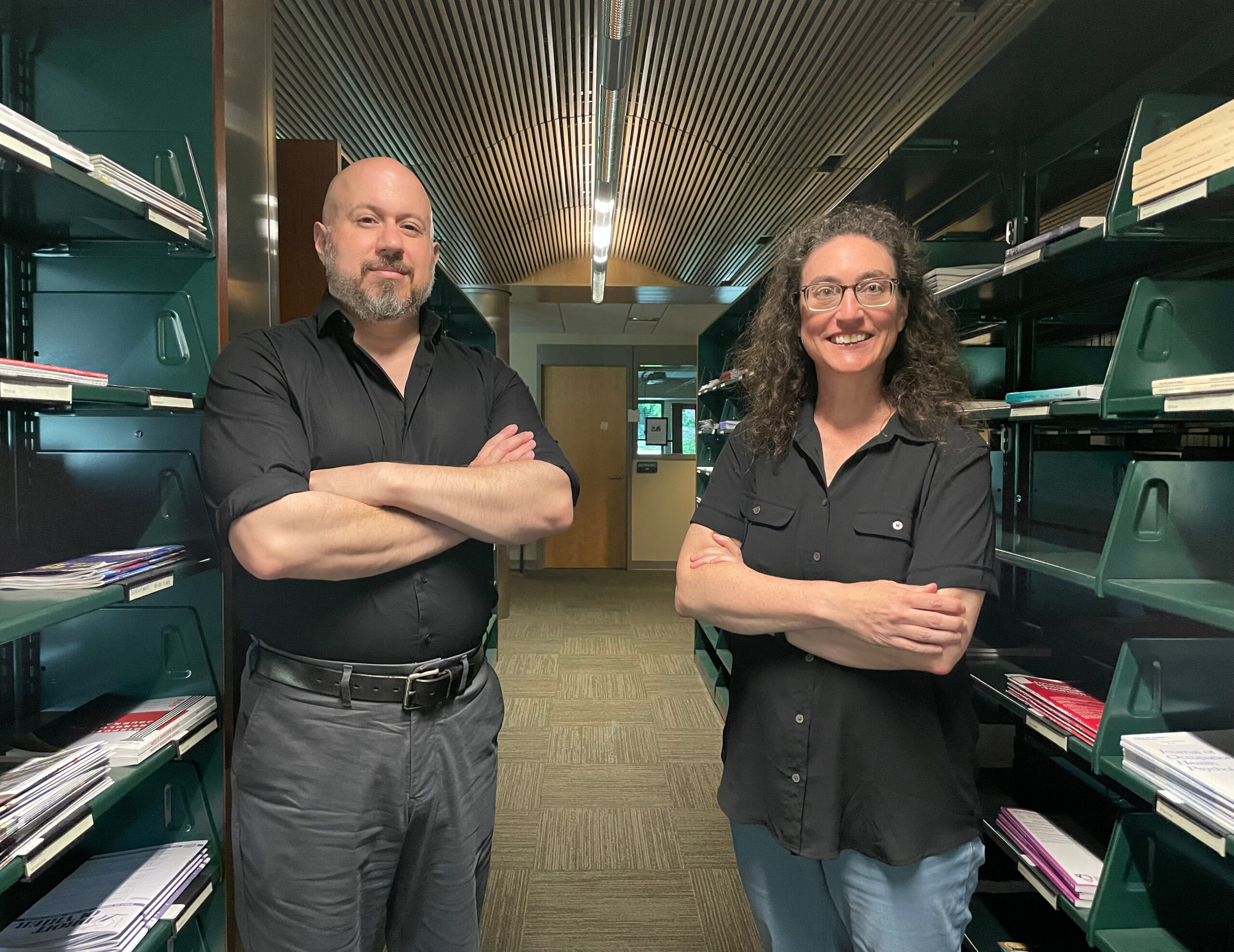 Scholars studying the shifting landscape of work can now dig deep into more than a half-century's worth of knowledge from the ILR School's digitized publications available on HathiTrust Digital Library, a vast collection of digitized content from libraries around the world.
The ILR publications go back to the earliest days of the school and cover a wide range of topics related to industrial and labor relations, from unions and collective bargaining practices to disability accommodations in the workplace.
Suzanne Cohen, collection development coordinator at Catherwood Library, and Jim DelRosso '99, M.P.A. '03, assistant director of Catherwood Library.
"It's a combination of ILR School history, the history of the field of industrial and labor relations, and anything having to do with the world of work," said Suzanne Cohen, collection development coordinator at Cornell University Library's Catherwood Library in the ILR School.
Working closely with Alexander Colvin, Ph.D. '99, the Kenneth F. Kahn '69 Dean and the Martin F. Scheinman '75, M.S. '76, Professor of Conflict Resolution in the ILR School, the librarians and staff from Catherwood Library made the publications as accessible as possible through the application of a Creative Commons Public Domain designation.
The documents – including annual reports, conference reports, research bulletins and library acquisitions lists – trace the growth of the ILR School and chart popular subjects of discussion and study across the decades.
The earliest ILR publication, for example, is a report on a 1947 gathering titled "Labor-Management Conference on Working Together in a Democratic Society," which revolved around various topics, including social security and frontiers in human relations, and featured speakers from academic institutions, government agencies, private corporations and labor unions.
"The school has been committed to playing an active role in workplace scholarship by hosting these kinds of seminars and bringing in scholars to talk about their studies," said Jim DelRosso '99, M.P.A. '03, assistant director of Catherwood Library. "Now anyone can access documents from conference symposiums and seminars and see how the scholarship around issues have evolved."
In this effort, the Catherwood librarians learned from the pioneering work of colleagues at Mann Library who, in 2017, unlocked HathiTrust-hosted materials published by scholars at the College of Agriculture and Life Sciences, according to Cohen and DelRosso.
"They gave us an unbelievably clear roadmap of what to do," DelRosso said.
The ILR materials on HathiTrust also complement the more recent materials available on DigitalCollections@ILR, an open-access online repository established in 2005 that's managed by Catherwood Library and now housed in eCommons.
Cornell University Library currently has 613,307 volumes in HathiTrust, making up 3.5% of the digital library's holdings. The partnership with HathiTrust is vital to fulfilling Cornell's mission of engaging the world, according to Cohen and DelRosso.
"We trust HathiTrust's preservation. We trust their access," DelRosso said.
This story also appeared in the Cornell Chronicle.