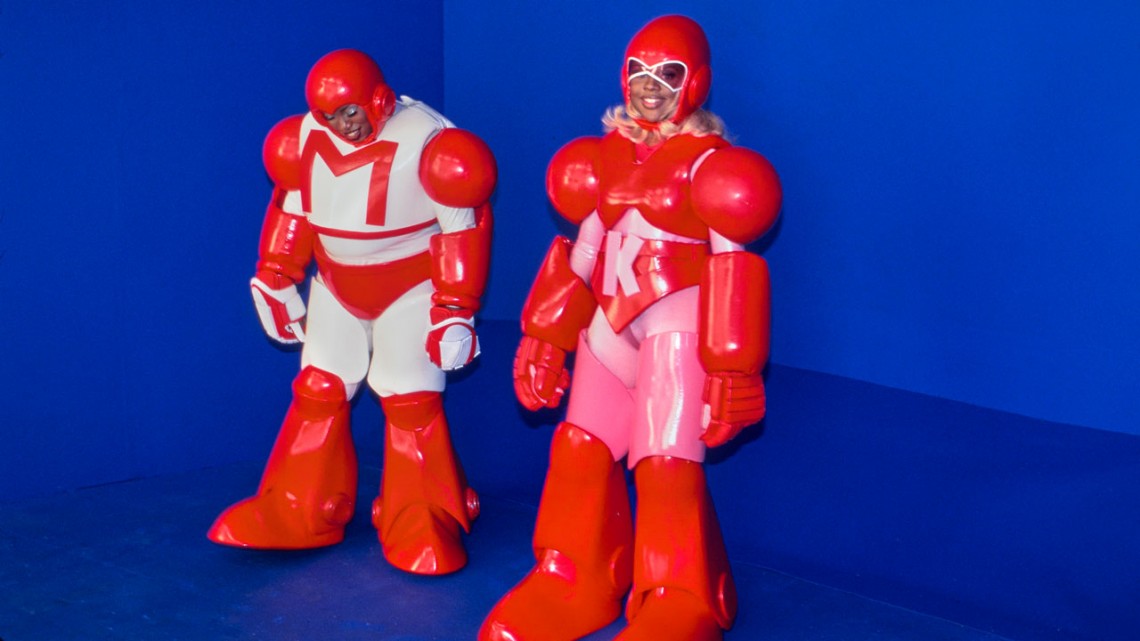 Missy Elliott and Li'l Kim dressed up as anime characters, resting between takes on the set of the "Sock It 2 Me" music video.
Biz Markie bouncing off his chair in a dressing room of the Apollo Theater.
Doug E. Fresh blowing out candles on his birthday cake that's decorated to look like a vinyl record, as Sean "Puff Daddy" Combs peers over his shoulder.
These and nearly 20,000 similar images can now be viewed online as Cornell University Library launches the Ernie Paniccioli Photo Archive , a digital collection chronicling hip-hop music and culture from the 1980s to the early 2000s.
The collection features digitized photographic slides selected from Paniccioli's larger archive of more than 100,000 images and artifacts housed in the Cornell Hip Hop Collection .
"Ernie's images offer viewers an unprecedented look at hip-hop's evolution," said Katherine Reagan, the Ernest L. Stern curator of rare books and manuscripts, who first approached the photographer in 2012 about preserving his work.
"We are grateful to Ernie and his collaboration with Cornell," Reagan said. "What he captured can now be experienced by everyone."
"In the pantheon of prolific photographers of hip-hop, Ernie Paniccioli is certainly at the top along with a handful of others," said Ben Ortiz, assistant curator of the Cornell Hip Hop Collection.
Ortiz described Paniccioli as a revered elder of the hip-hop community and marveled at his insider's view of artists "moving through their careers, in between performances, in between moments when they're in the spotlight."
"Just all types of situations that the average person wouldn't have access to – that's a big deal with this archive," Ortiz said.
Paniccioli was born Feb. 26, 1947, in Brooklyn, New York, to Cree Native American and Italian parents, and spent his teens steeped in the bohemian spirit of Greenwich Village. Later, working as an analyst for a telephone company, he started documenting graffiti on buildings and in the subways on his commute. The graffiti artists Paniccioli befriended introduced him to kindred hip-hop musicians, who then welcomed him into their tight-knit community as "Brother Ernie."
In the '80s, he became the principal photographer for Word Up! and Rap Masters magazines; his pictures also have appeared in The Source, Rolling Stone, The Village Voice and Newsweek. He has also exhibited in galleries and published several books, including "Who Shot Ya? Three Decades of Hip Hop Photography" and " Hip Hop at the End of the World: The Photography of Brother Ernie ."
For his contributions to the hip-hop community, Paniccioli has been recognized by many of its organizations, such as the Universal Zulu Nation and the Hip Hop Hall of Fame.
A self-taught painter-turned-photographer, Paniccioli has always been dedicated to capturing the energy of the moment.
"I used to work on a portrait sometimes for six months; then I got a camera and I could do it in a 60th of a second," he said. "But I carried that same ethos with me, the same thing whether I'm with that person for 60 days or a 60th of a second. I wanted to put everything else away and just be at that now."
Currently residing in Jersey City, New Jersey, Paniccioli makes collages, plans exhibitions of his photos and artworks, and takes plenty of pictures of his grandchildren. "These are the superstars I'm working with," he said with a laugh.
He said he is "super excited" about his images finding a wide audience through the Cornell Hip Hop Collection.
"All the different graffiti artists and DJs opened up a whole world to me. Imagine 45 years later an esteemed university comes and wants to share your archive with the world," Paniccioli said. "And all you wanted to do that day was get up and go to work."
This story also appeared in the Cornell Chronicle.