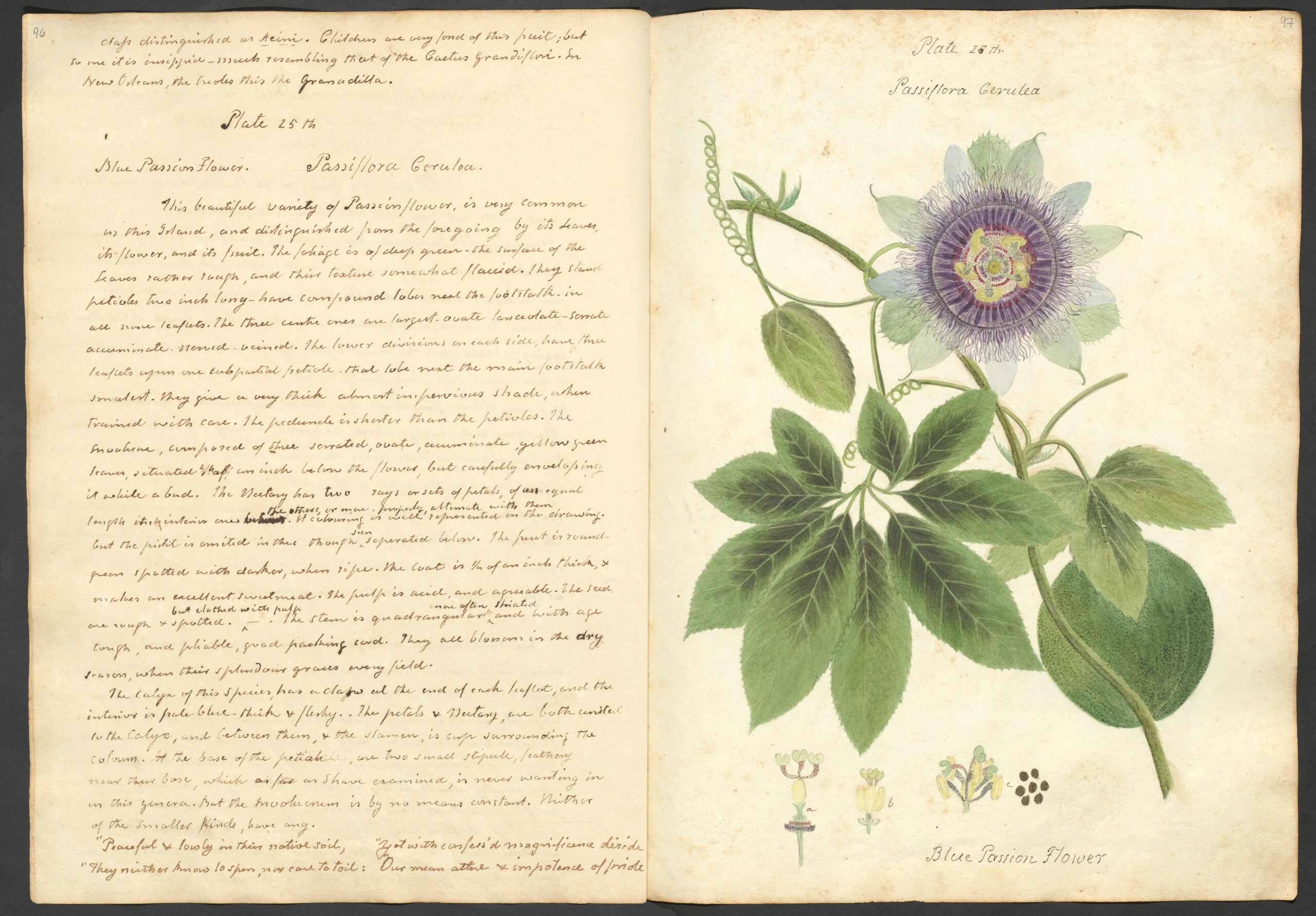 A pioneering but little-known botanical illustrator from the early 1800s is finally getting the recognition she deserves, thanks to the digitization efforts of Cornell University Library's Division of Rare and Manuscript Collections (RMC) and the research of a Cuban-American historian.
Dating back to 1826 and brimming with meticulous descriptions and vivid watercolor illustrations, Nancy Anne Kingsbury Wollstonecraft's manuscript, Specimens of the Plants and Fruits of the Island of Cuba, never saw print in her lifetime despite her attempts at publication. Nearly two centuries later, the lush life she captured can now be admired and downloaded from HathiTrust, where it was shared by Cornell University Library.
The manuscript is a treasure from the 1800s, according to Emilio Cueto, author of Illustrating Cuba's Flora and Fauna and a scholar of Cuban history and culture. Cueto called it "the most important corpus of plant illustrations in Cuba's colonial history."
Cueto had been on the hunt for Wollstonecraft's manuscript for more than two decades.
"The document had been alluded to by highly relevant Cuban personalities of the 19th and 20th centuries, [including] Félix Varela, José Antonio Saco and Carlos M. Trelles, who never had the chance to see it," he said.
In March 2018, Cueto found a catalog entry for Wollstonecraft's manuscript, and in October he and Judy Russell, dean of university libraries at the University of Florida, flew to Ithaca. Cueto and Russell have been collaborating on gathering and preserving Cuban heritage materials, and they have been championing Wollstonecraft's work.
Very little is known about Wollstonecraft, said Cueto. She was born Oct. 29, 1791, in Rindge, New Hampshire, and was married to Charles Wollstonecraft, the brother of author and philosopher Mary Wollstonecraft and uncle to Mary Shelley, author of Frankenstein.
Shortly after her husband died in New Orleans in 1817, Nancy Anne Kingsbury Wollstonecraft moved to an American expatriate community of convalescents in Matanzas, Cuba. She died there May 16, 1828, at the age of 46, soon after sending her manuscript to publishers in New York.
Her three-volume folio—comprising 220 text pages and 121 illustrated plates —became a family heirloom and was eventually donated to RMC in 1923 by Benjamin Freeman Kingsbury, a Cornell professor and descendant of Wollstonecraft's.
"The story of this manuscript is a wonderful example of what makes libraries so important, and what makes the Cornell University Library such a wonderful resource for Cornell and for the global research community," said Anne Sauer, the Stephen E. and Evalyn Edwards Milman Director of RMC. "We are thrilled that Wollstonecraft's work will now be easily available to all."
This story also appeared in the Cornell Chronicle.