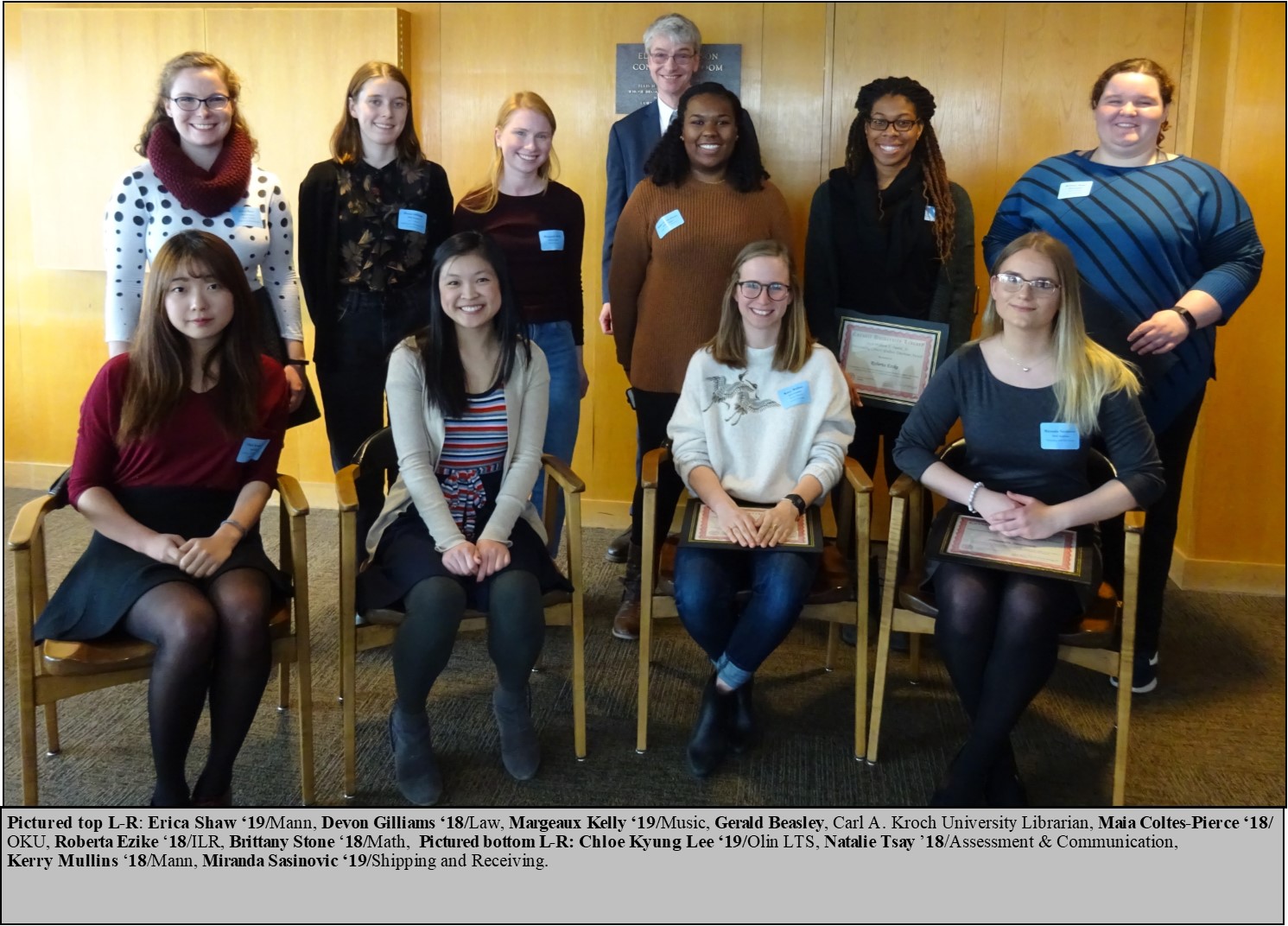 Five student workers with a combined 15 years of library experience received the Library's 2018 Fuerst awards for outstanding service.
Named for William F. Fuerst, Jr. '39, the prize is awarded annually to students on the basis of their exceptional performance, initiative and service to the library.
The winners are:
Maia Coltes-Pierce '18, who has worked in Olin Library Access Services for the past three years. From her nomination: "Maia's approach to her work and colleagues is sincere and consistent. Her sense of responsibility is extraordinarily strong. She strives to excel no matter how mundane or complicated the task."
Roberta Ezike '18, who has worked in Library Technical Services and at the Kheel Center for four years and one summer. From her nomination: "Her understanding of the larger goals, the context into which her work fits, her attention to detail and her personal integrity all make her one of Cornell University Library's most valuable assistants."
Kerry Mullins '18, who has worked in Mann Library Access Services for four years. From her nomination: "We get long lines at the circulation desk as we print large volumes of posters and troubleshoot the various issues that arise from their rushed print jobs. Kerry can take the brunt of this like a seasoned sailor standing in a gale wind," wrote her supervisor.
Brittany Stone '18, who has worked in Math Library Access Services for two and a half years. From her nomination: "The Math Library has been lucky to have the benefit of such a cheerful, competent, and reliable student employee."
Miranda Sasinovic '19, who has worked in Library Shipping and Receiving for two years. From her nomination: "Miranda has a great attitude, is very mature, takes her job very seriously exhibiting true leadership qualities that are rare, and all with a good sense of humor. She is a joy to work with."
Fuerst, a graduate of the College of Agriculture and Life Sciences, was a Foremost Benefactor of Cornell and best known for his special efforts to improve the Cornell experience for undergraduates. He created the Fuerst Outstanding Library Student Employee Awards in 1995, and each year nominations are sought from library supervisors across campus.
The five other students who were nominated are Devon Gilliams '18, Margeaux Kelly '19, Chloe Kyung Lee '19 and Natalie Tsay '18.
With 400 student workers, the Library is the second-largest employer of students at Cornell.