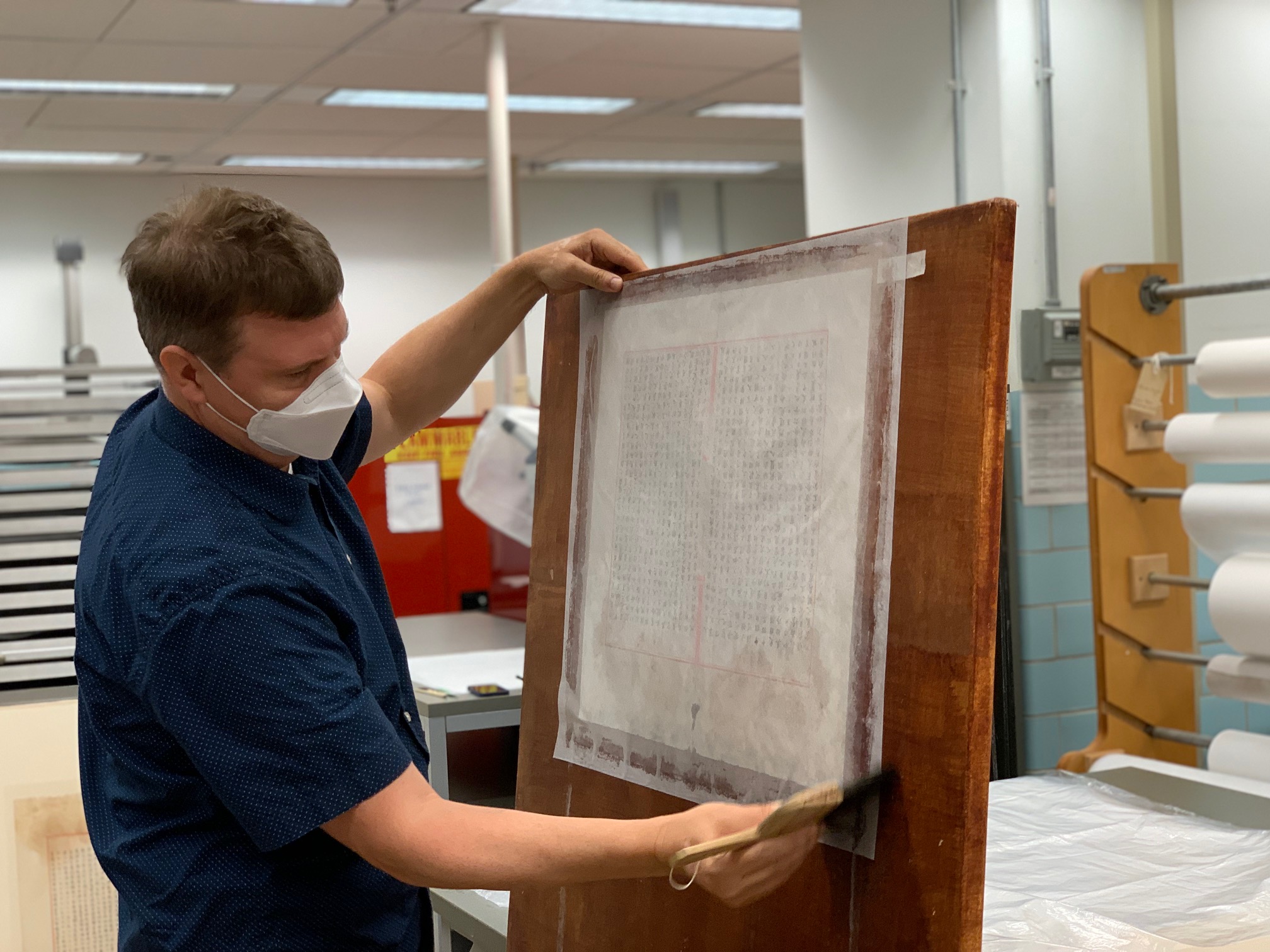 Famous for building the architectural marvel of Beijing's Forbidden City in the early-15th century, the emperor Zhu Di (known by his imperial name of Yongle) also ordered the creation of a monument made of ink and paper: a hand-written encyclopedia of all forms of Chinese knowledge, from Confucian philosophy to medicine.
Known as the Yongle Dadian consisting of 11,095 volumes bound in gold silk, the original corpus was lost over the centuries, and only 420 volumes of manuscript copies that were made in 1567 still exist today in a handful of museums and libraries in different parts of the world.
On Sept. 27, noon to 1 p.m., the Cornell community and the general public can get a glimpse of the Library of Congress's efforts to conserve and digitize 41 Yongle Dadian volumes in its collection, at a talk by its senior book conservator Dan Paterson in room 2B48 of the Carl A. Kroch Library. The presentation is sponsored by Cornell University Library Conservation, and it will also be livestreamed on Zoom.
During his presentation, Paterson will discuss the Yongle Dadian's unique construction, its preservation challenges and the benefits of digitization.
Paterson's talk is part of a two-day workshop on East Asian bookbinding and book conservation, also sponsored by the library's conservation department and involving its staff along with book conservation graduate students from New York University and the University of Delaware.
"We have this opportunity for our conservators and technicians to be trained by Dan," said Trina Parks, the library's conservator for rare and distinctive collections. "And it's a professional service for us to share the resources of Cornell and educate the next generation of book conservators."
The talk and workshop will also support the library's efforts to preserve and make accessible important collections of rare Chinese, Japanese and Korean books in Kroch Library's Asia Collections, Parks said.
Highlights from Cornell's collection include five volumes of the Yongle Dadian housed in the Division of Rare and Manuscript Collections.
"It's wonderful that Cornell has these volumes," said Liren Zheng, curator of the Charles W. Wason Collection on East Asia.
Zheng explained that the volumes were donated by early alumni. Three volumes came from Charles W. Wason, Class of 1876, who bequeathed his library to establish the collection on East Asia, and two were donated by Alfred Sao-ke Sze, Class of 1901, who later became a Chinese diplomat to the U.S.
The Yongle Dadian volumes are available for on-site reading by request, Zheng said.
Attendees to the public lecture are expected to follow Cornell's health and safety guidelines. Seating is limited at the venue, and Zoom attendees must register in advance.