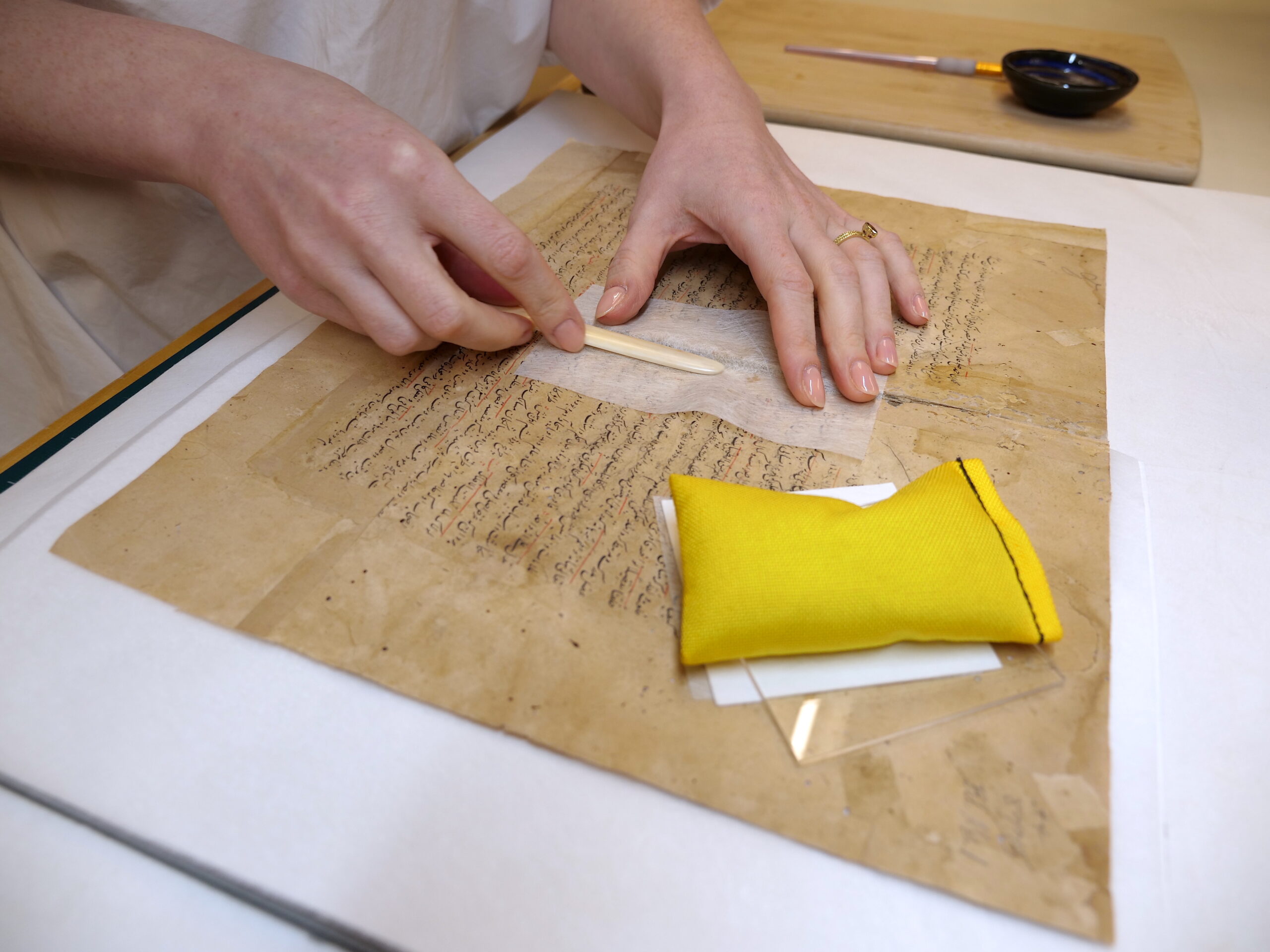 In the past few months, Cornell University Library's Conservation team has been drawing crowds. They prepared archival materials for a major exhibit celebrating the life and career of Dr. Joyce Brothers '47. At the jampacked Insectapalooza organized by Cornell's entomology department, they demonstrated how to make iron gall ink—a type of ink that wasps help produce and that's been widely used in the Western world since it was first developed in the 4th century. At a workshop on medieval writing materials, they invited the public to the Conservation Lab in the lower level of Olin Library and were thrilled by the long line of visitors that stretched out into the hallway.
Conservator Trina Parks-Matthews has been energized by the turnout and looks forward to welcoming more participants to workshops, demonstrations, and instruction sessions in the future. "We clearly need a bigger space with moveable furniture," she said about the prospect of lab renovations to further advance conservation work and programs for educating and engaging the Cornell community.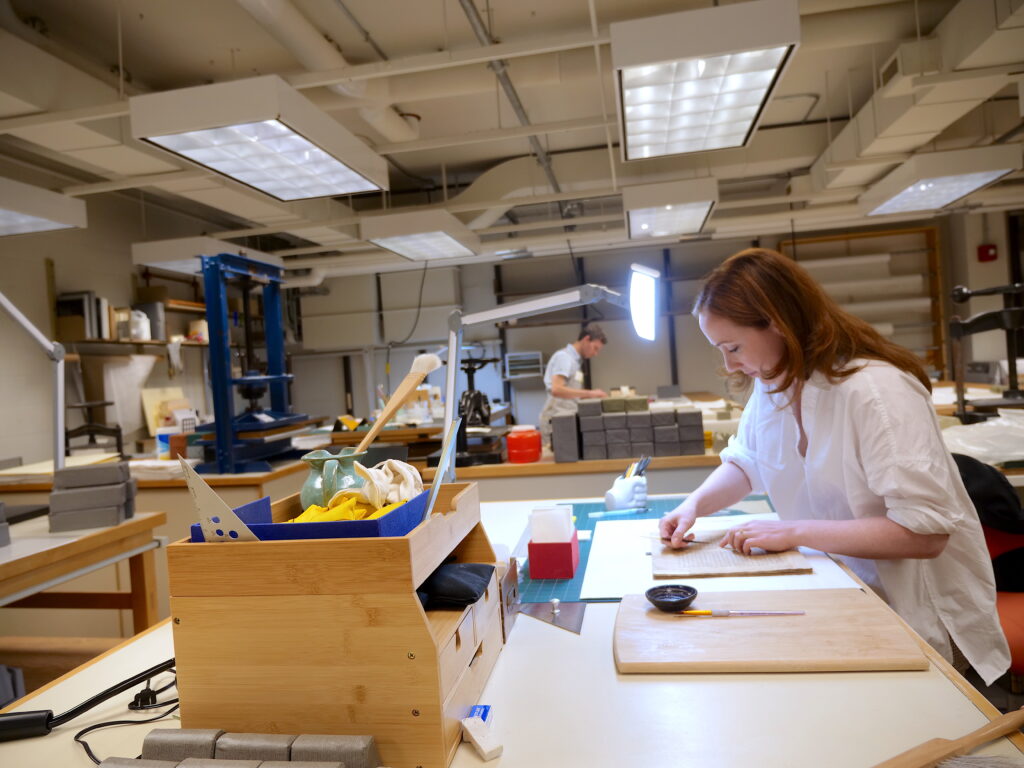 These recent public events offer glimpses of Conservation's vital mission of preserving, protecting, and making accessible Cornell University Library's world-renowned collections for scholars on campus and for visiting researchers from across the globe.
Established in 1985, the Conservation Lab focuses on rare and special collections, explained Michele Hamill, head of Conservation, who specializes in treating paper and photographic works.
"Our Conservation Lab staff have deep knowledge of and experience in the preservation of physical collection formats, utilize nationally accepted specialized materials, and employ national best practices, techniques, and methods to preserve and protect physical collections for today's scholars and future generations," she said.
The library's most valuable holdings have passed through conservators' hands—from Shakespeare's First Folio to a manuscript copy of Abraham Lincoln's Gettysburg Address; from materials about human sexuality to rare books related to the history of science.
The library's conservators handle different media: drawings, photographs, flyers, maps, scrapbooks, journals, and books bound in leather, parchment, and cloth. They prepare these materials for safe storage and protect them from wear and tear as they're used for research, teaching, exhibits, and loans to other institutions.
"What I love about this job is the variety of work that I get to do and the materials I get to see and work with," said Adam Bryant, senior conservation technician. "It's challenging but also very rewarding."
Conservation is also deeply collaborative. "We work with curators, archivists, and librarians on the selection process and planning for treatment of special collections," Hamill said.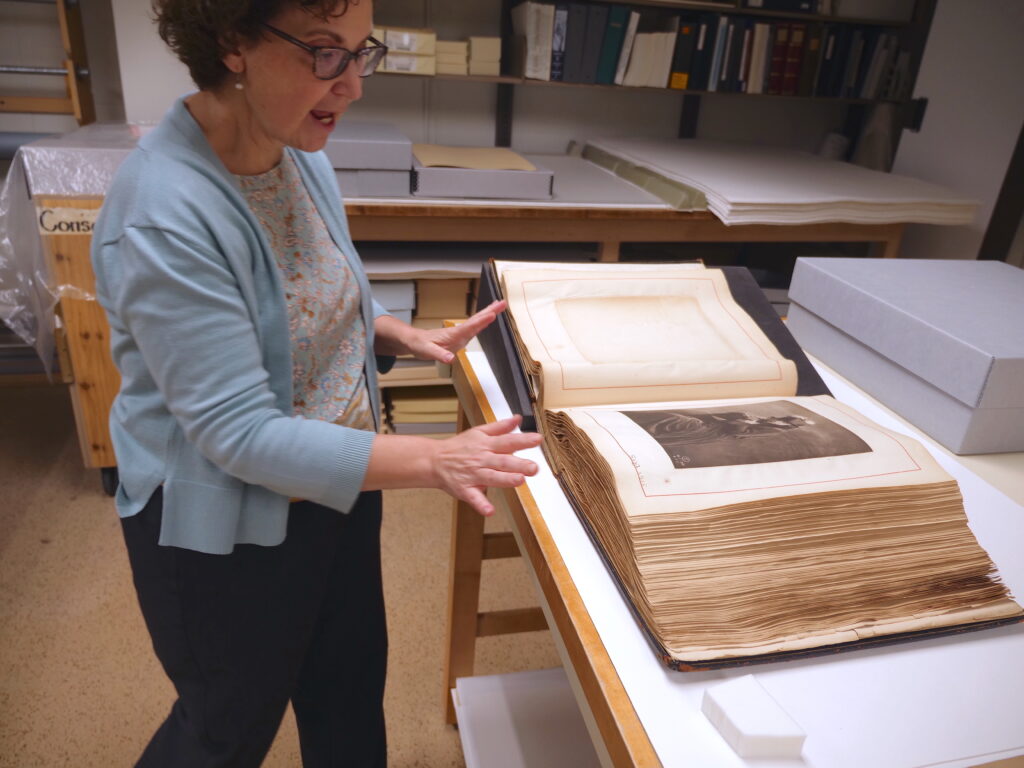 A Visit to the Conservation Lab
Inside the Conservation Lab, there's a constant rustle: the rasp of a dry, cosmetic sponge gently wiping off dust particles from a page; the sound of strips of delicate Uso-Gami paper patted down to mend tears in a manuscript; the methodical scraping of a scalpel to remove glue from the spine of a book in need of rebinding; the clicks of a camera as conservators document each step of their treatments so that future experts can examine and build upon their work.
Recently, in response to requests from instructors, researchers, and curators, the lab has prioritized the conservation of materials from non-Western cultures and traditions.
Current and upcoming conservation projects include stabilizing materials for instruction, such as a 1661 manuscript of anatomical illustrations, Tashrīh-i Manṣūrī, originally written by Persian physician Manṣūr ibn Muḥammad ibn Ilyās in the late 14th or early 15th century.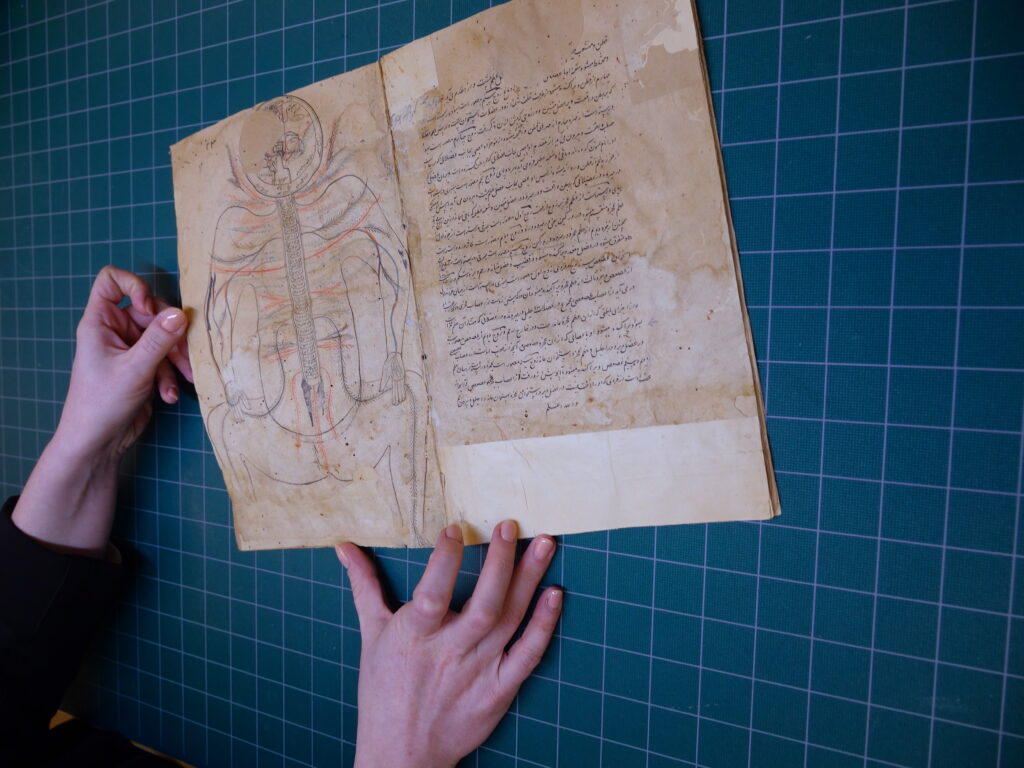 Newly cataloged items are also prepared for shelving and for use by scholars, including a rare 54-volume manuscript set of the Tale of Genji from the 1730s, that was recently acquired with the philanthropic support from Marjorie Neuwirth and Philip Neuwirth '01, who are both members of the Cornell University Library Advisory Council.
The Tale of Genji is "unquestionably the most influential and significant work of Japanese literature," said Dan McKee, the library's Japanese bibliographer who led the acquisition. "Although some university libraries have single manuscript volumes from this extensive work, this is the only complete manuscript set that I was able to find in any university library."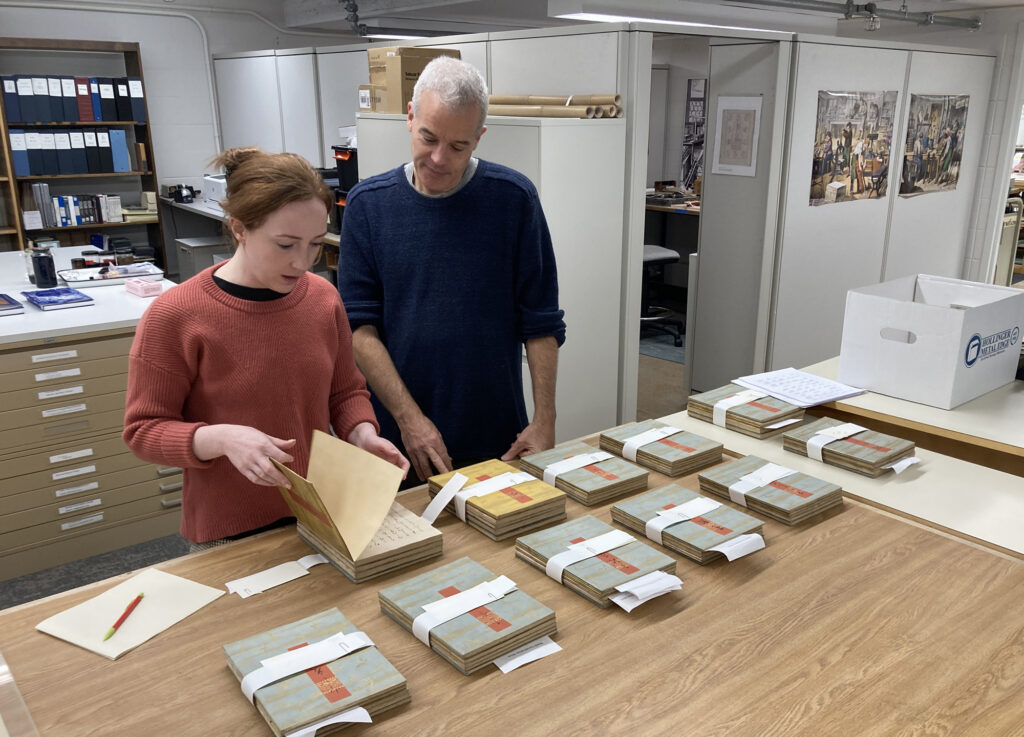 Other irreplaceable items from the library's Asia Collections are undergoing treatment, including two of Cornell's five volumes of the Yongle Dadian—a handwritten encyclopedia of all forms of Chinese knowledge at the time, from Confucian philosophy to medicine, commissioned by Emperor Yongle in the early 15th century.
Three of these volumes were donated to the library by Charles W. Wason, Class of 1876, who bequeathed his library to establish the collection on East Asia, and two were donated by Alfred Sao-ke Sze, Class of 1901.
These gold silk-bound books are widely considered to be among the most valuable pieces in the library's Charles W. Wason Collection on East Asia, and they have often been featured in displays and other events.
After consulting extensively with Wason curator Liren Zheng, Parks-Matthews is performing treatments on the Yongle Dadian volumes to make them more stable for handling and public viewing.
One of the volumes' gold silk covering, for example, has pre-existing stains and is fraying and lifting in certain spots.
"Silk is very reactive to moisture," Parks-Matthews said. "The fabric was lifting up, and, previously, somebody who was well intentioned had used a little bit of adhesive to put it back down, but it left a big stain."
"One of the things I'm trying to do is not cause any stains, so I'm using refined wheat starch paste that is purified," she said. "We know how this paste ages, and it's also reversible."
To complement Parks-Matthews' conservation treatments, Bryant is creating a new enclosure for each of the volumes. This enclosure protects the book when not in use, and it also opens up to become a "cradle" holding the book securely for display.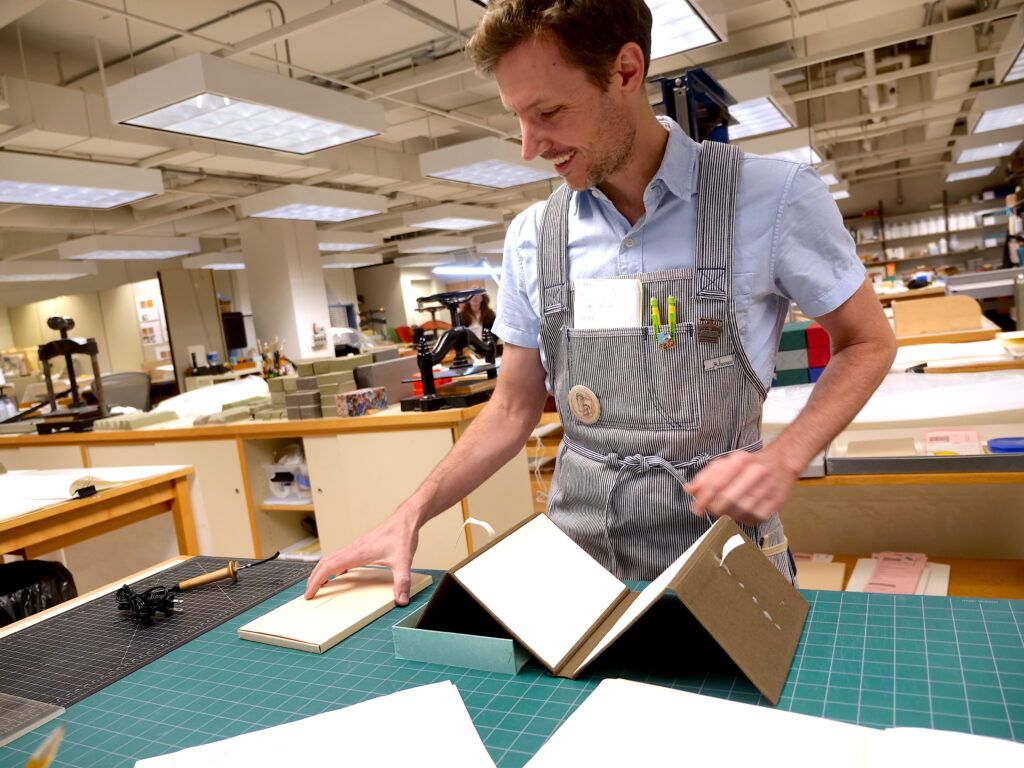 The library's conservators take great pride in the work that they do, and they often attend exhibits and presentations featuring materials they've treated. Last September, they attended a one-day showcase of rare books related to China, where the Yongle Dadian was the highlight.
"It was so exciting to see because I know we made it possible for these materials to be taken out and displayed." Parks-Matthews said. "It really shows that we care about these items, and we will do what is needed to maintain them using our best practices."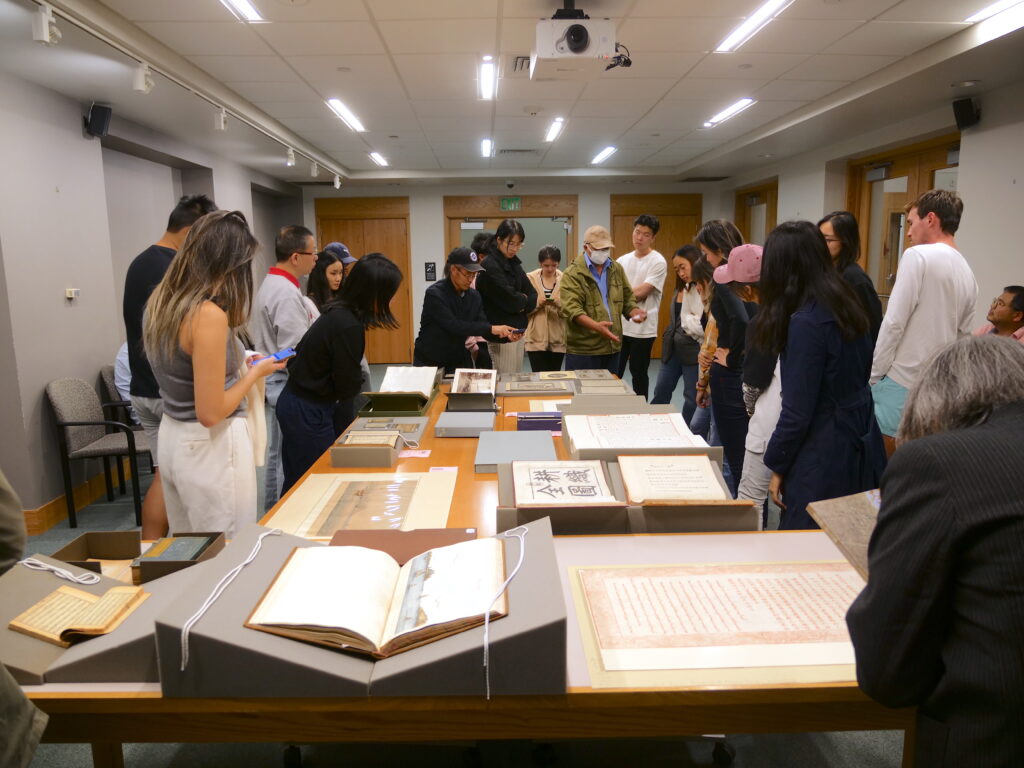 Supporting the ground-breaking work of Cornell's scholars and enhancing the student experience are among the biggest rewards of conservation, according to Parks-Matthews. "One of the reasons I enjoy being a conservator is that I know that the work I've done has allowed someone to make a research discovery," she said.
To learn more about the Conservation team and how they contribute to Cornell University Library's mission, visit the Conservation website. For inquiries on how to make financial gifts to support the Conservation lab, email Michelle Houle Hitz '98, Cornell University Library's director of Development, at mmh11@cornell.edu.