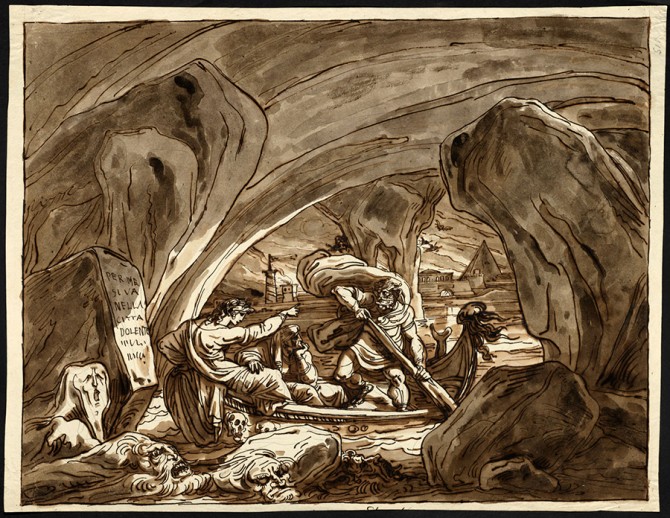 A new exhibition on the Ithaca campus celebrates the enduring legacy of the Italian poet Dante Alighieri (1265–1321) and showcases one of the most significant collections on the writer in the United States.
"Visions of Dante" opens Sept. 14 at the Herbert F. Johnson Museum of Art, timedto mark the 700th anniversary of Dante's death. The exhibition of approximately 100 works in various media will explore the visual nature of Dante's "Divine Comedy," presenting it as a source for artists, furthering Dante scholarship and providing access for diverse learners to Dante's concepts and themes.
"Visions of Dante" draws largely from Cornell University Library's Fiske Dante Collection, in the library's Division of Rare and Manuscript Collections (RMC). The collection was started in 1892 by Willard Fiske, Cornell's first librarian. As he was restoring a villa near Florence, Italy, he impulsively purchased a 1536 edition of the "Divine Comedy"and had it sent directly to Cornell – bookworms and all. Within a few years, the Fiske Dante Collection had grown to become one of the most significant such collections in the United States.
In the exhibition, early printed editions introduce Dante as a visual poet and show initial solutions to the challenge of illustrating the poem; they also serve as a reference point for the persistence of the "Divine Comedy" through a range of later illustrated editions and portfolios by artists from William Blake to Salvador Dalí and Kara Walker.
Library holdings will be accompanied by works on paper, paintings, photographs, sculpture and film by artists who treat Dante's universal themes as catalysts for their own explorations of contemporary culture, mores and self. Many of the 20th and 21st century works are loaned from other museums and art galleries."Visions of Dante" runs through Dec. 19, 2021.
The exhibition is co-curated by Andrew C. Weislogel, the Johnson's Seymour R. Askin, Jr. '47 Curator of Earlier European and American Art, and Laurent Ferri, curator of pre-1800 collections in RMC.
"Visions of Dante" is part of a Central New York Humanities Corridor collaboration with the University of Rochester. The exhibition is supported in part by grant from the Gladys Krieble Delmas Foundation.
This story orignally appeared in the Cornell Chronicle.